Microsoft Outlook is Freezing, Crashing or Slow
Description
Sometimes, you can experience the Microsoft Outlook freezing - eWay-CRM lists cannot be loaded, the work with the system is very slow and you are unable to do anything. Microsoft Outlook can even collapse. In the Resolution part can be found issues that are described and solved. These are:
Version
All versions of eWay-CRM
Difficulty
Medium
Resolution
Freeze During the Synchronization of Emails in Microsoft Outlook
The Microsoft Outlook window is correctly displayed, but you cannot click anything. The status bar shows that emails are permanently synchronized. The issue is related to IMAP.

The repair of the PST file should be the solution you can do it by the manual in Resolution of general integration issues with MS Outlook - Option 1.
Freeze After Receiving Email When You Use ESET Antivirus Software
When you receive an email, Microsoft Outlook does not respond anymore and freezes. The issue is related to Microsoft Outlook 2013.
The issue can be caused by ESET antivirus software.
To solve the issue, you need to deactivate the Read emails function in the ESET settings.
Freeze During the Opening of eWay-CRM Lists
For example, you try to open the Company list, but instead of displaying it, you see only the white window. The status bar shows that the list of companies is loaded, but nothing happens.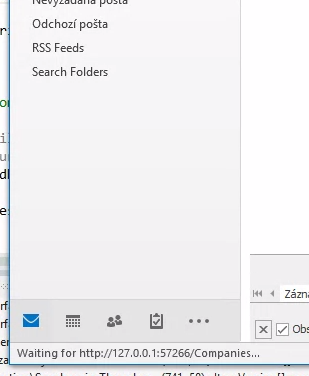 This issue is caused by Microsoft Outlook and its inbuilt Internet Explorer. You can avoid the issue by opening eWay-CRM lists in separate windows. Just download https://download.eway-crm.com/regfiles/open-grids-in-new-window.zip, unzip it and launch it. See Open lists in new window for more information.
Freeze Caused by Integration With PBX using TAPI
Microsoft Outlook is freezing on a regular basis after it is started. It might be cause by integration with PBX using TAPI. In Windows Registry, you can disable it by deleting TelephonyLineId key on this path:
HKEY_CURRENT_USER\Software\Memos\eWay Outlook Client\eWaySettings

Slow Response of Outlook
You may experience application pauses if you have a large Outlook data file. In this article, you can find the appropriate data file size for different Outlook versions.
In the newer versions of Outlook, you can set how old emails will be synchronized. For example, if you want to synchronize emails not older than a month, other emails will be saved on the server, and during searching the server emails will be searched too.
Slow Opening of Emails and Slow Moving Between Emails in Microsoft Outlook
The error is caused by Microsoft Outlook Address Book if you are using Microsoft Exchange.
The solution of the issue is described in Opening of emails in MS Outlook is slow after the installation of eWay-CRM.
Crash Caused by Incompatibility of Graphic Drivers
The incompatibility of graphic drivers may cause Microsoft Outlook to freeze or crash.
Solution is to turn off the graphic acceleration. In Microsoft Outlook, go to File tab and select Options. In left menu, click Advanced and scroll down - you need to mark Disable hardware graphics acceleration setting.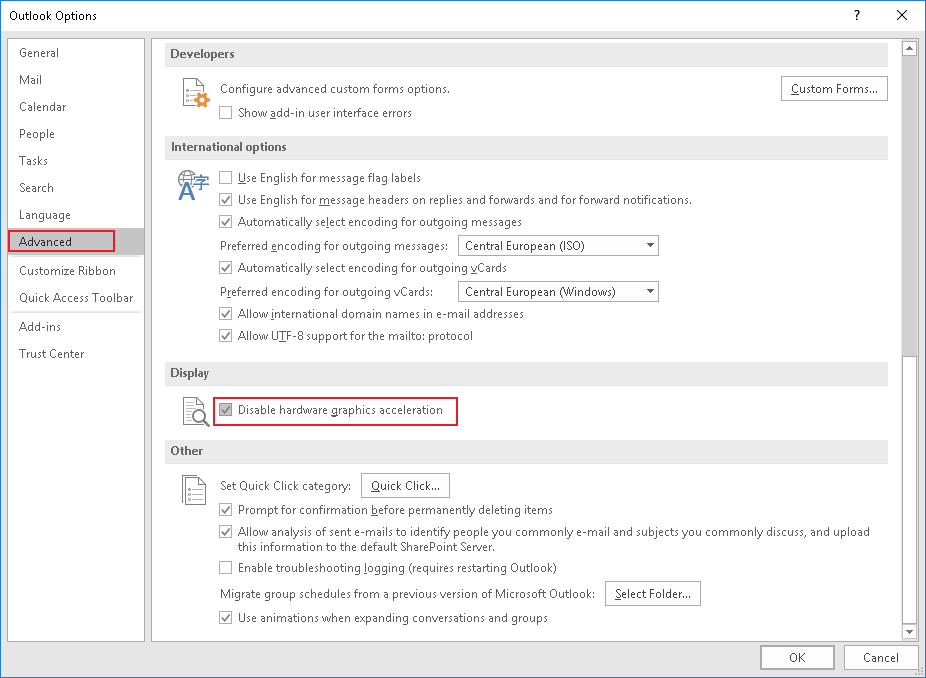 Confirm the change of setting by clicking OK.
General Resolutions
Other general solutions that can help you can be found in Resolution of general integration issues with MS Outlook.