Login from Web Browser and Basic Settings of eWay-CRM Online
eWay-CRM Online allows you to access your data from any computer or Mac that is online. You do not need to have eWay-CRM Desktop installed on your PC, you just need an internet connection. Your data are always synchronized with the server and even through eWay-CRM Online, you have displayed up-to-date data.
This article contains:
Basic Requirements
Valid eWay-CRM
Stable internet connection
Username and password to eWay-CRM - see eWay-CRM Account Web Sign-Up
Web browser: Microsoft Internet Explorer 11 and higher, Microsoft Edge, Google Chrome, Opera, or Firefox.
eWay-CRM Online Login
You can go there right from eWay-CRM Online or you need to insert the address into your web browser, You should get it when your account was created, for example:
https://hosting.server.com/webova_sluzba/Web
When you go to this address, you should see this login window (or login only by email address):
Now, just insert your username and password. After successful login, you should see this similar interface: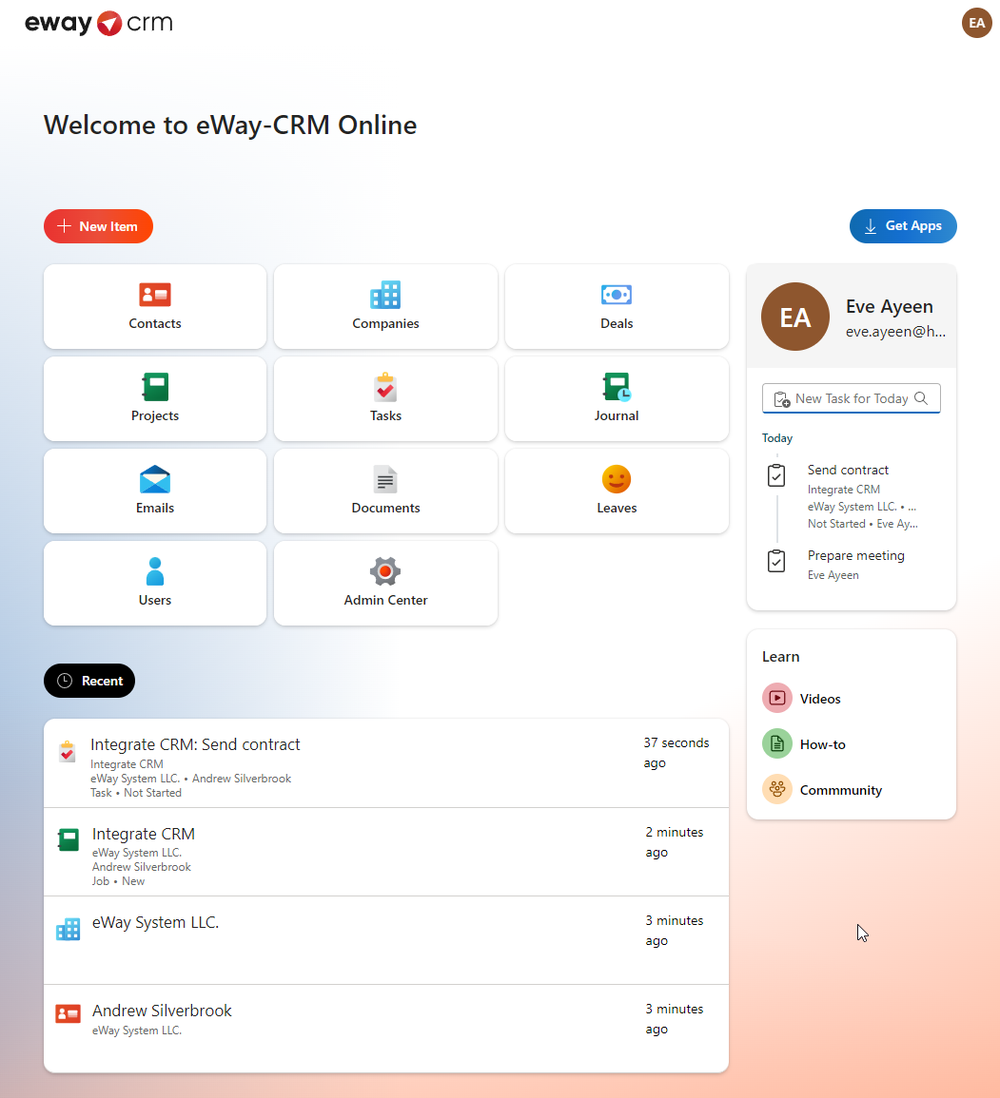 For more information about the welcome page, go to Welcome Page. If you want to work with a list, go to List of Items Introduction.
Supported Modules
The table shows you, what modules are supported in eWay-CRM Online and you can create or edit items in them. Information in the table is described for the state when the user has no limit given by module permissions or the function is not limited, for example, by workflow action.
| | | |
| --- | --- | --- |
| Module | Create | Edit |
| Deals | Yes | Yes |
| Projects | Yes | Yes |
| Companies | Yes | Yes |
| Contacts | Yes | Yes |
| Emails | No | Yes |
| Journal | Yes | Yes |
| Documents | Yes | Yes |
| Tasks | Yes | Yes |
| Time Sheets | Yes | Yes |
| Leaves | Yes | Yes |
| Users | No | Yes |
Account Settings
In the right top corner of the eWay-CRM page, there is an icon of your user with possibilities for this account. When you click the circle, you will see these options: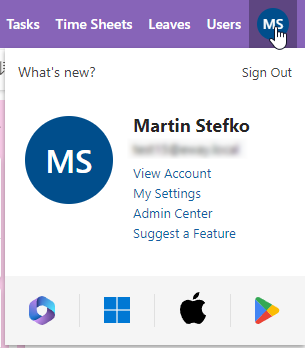 What is new? – new features of your current version of eWay-CRM Online
Sign Out – log out from your eWay-CRM account
View Account – open detail with information about your user
My Settings – you can change eWay-CRM Online settings see Settings
Admin Center – if you are an administrator, you can go to Administration Center
Suggest a Feature – you will be redirected to the web where you can suggest a function you would like to see in eWay-CRM
Get eWay-CRM Outlook – bottom icons allow you to download up-to-date eWay-CRM for different devices and platforms