The Journal module is intended as verbal communication evidence, not only between you and your client but also within a team. It gives you the opportunity to manage notes from meetings and telephone talks, insert project milestones, and so on. Each note can be created, edited, deleted, and related to the items from other eWay-CRM modules thanks to the tab system.
This article focuses on the basics of the Journal module in eWay-CRM Web. If you want more general information about this module, please go to the description of the module for eWay-CRM Outlook.
Journal List
Clicking the module name in the top part of the eWay-CRM Online page, you get into the journal list.

When you click the link, you will see the list of all items that your user has permission to.
The default view shows only journals that are not older than 30 days. This filter can be changed.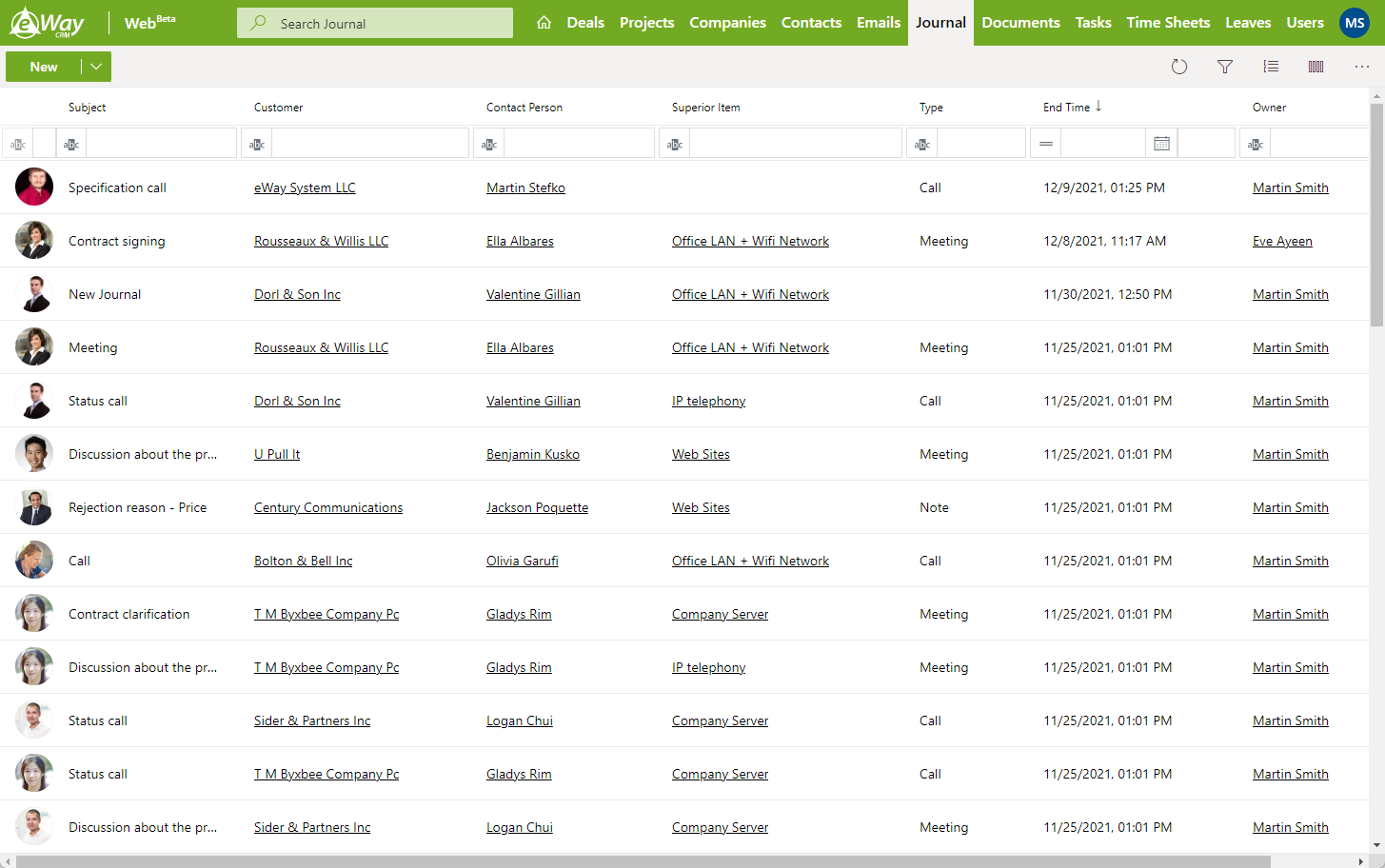 You can search items in the list, filter them, customize the list, etc. For more information about list opinions, go to List of Items Introduction.
Item Preview
When you click an item, its preview panel shows on the right side of the web page where you can see the values of the items and also some relations. For more information about the preview, go to Item Preview.
Journal Dialog
Find out basic information about items creating and editing here: Create and Edit Items.
If you want to open an item, just double-click it. You will see similar detail: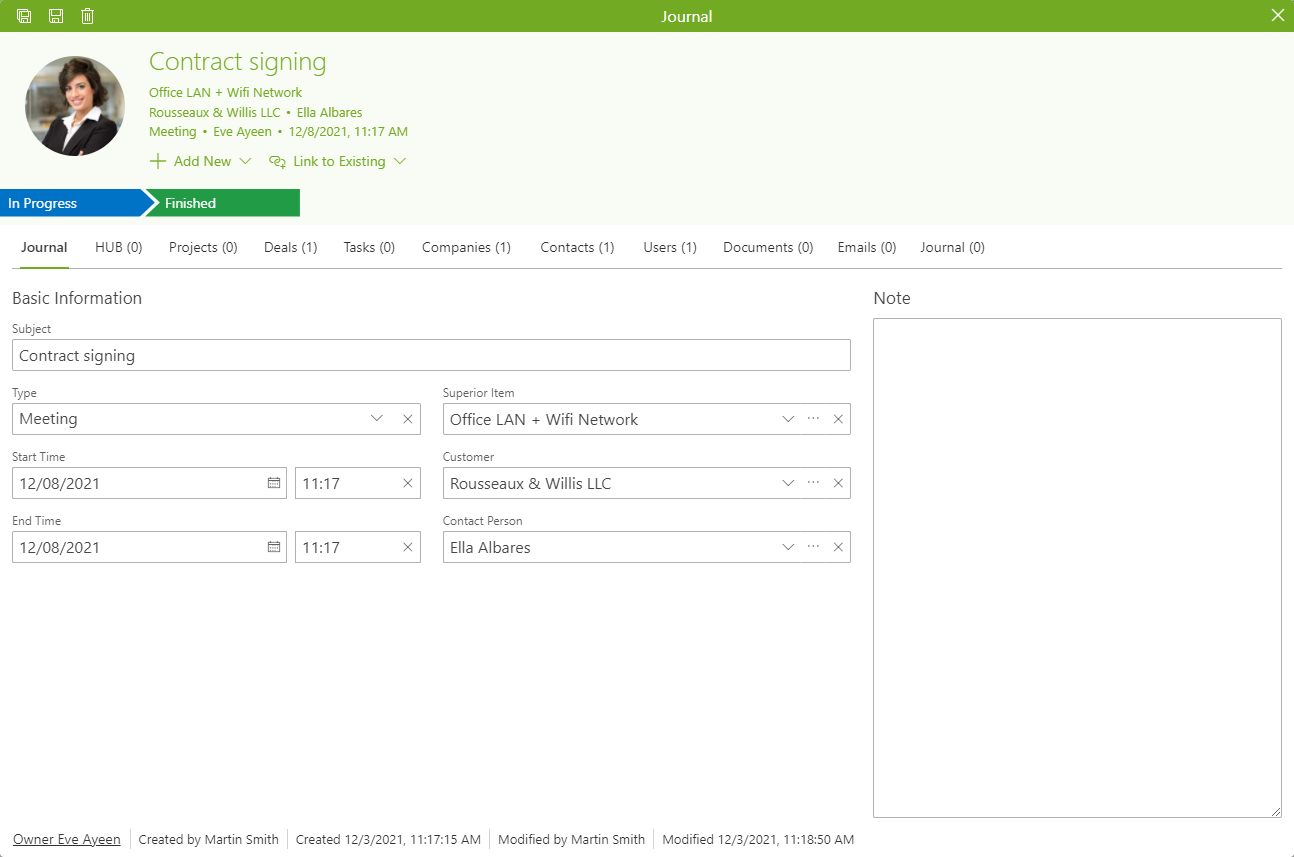 | | |
| --- | --- |
| Field | Description |
| Superior Item | A project, deal, or marketing campaign the journal is related to. |
| Customer | A company related to the journal. |
| Contact Person | A contact related to the journal. |
| Subject | The name of the journal item. |
| Start Time and End Time | Date and time when the journal was created or is related to. |
| Type | The type of the journal for better review of journals. |
| Note | The general text you can add to your journal. |
When you want to display other fields, customize your dialog, use Form Designer in eWay-CRM Outlook. eWay-CRM Web will display a dialog similar as in Microsoft Outlook, but some differences can happen due to the position of field groups in eWay-CRM Outlook - eWay-CRM Web does not use only the horizontal position of the field group, but the vertical is also important, e.g. when the group is on the right in eWay-CRM Outlook but it is higher than the group on the left, it is displayed higher in eWay-CRM Web.
Item Header
The top part of the item detail allows you to do some basic operations with the item and informs you about the item: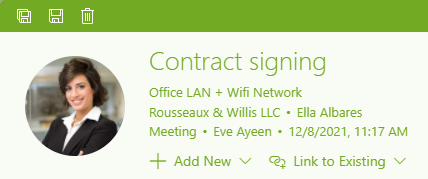 | | |
| --- | --- |
| Option | Description |
| Save and Close icon | Save all changes and close the dialog. |
| Save icon | Save all changes. |
| Delete icon | Delete the item if you have appropriate permissions. |
| Profile Picture | The picture you related with the item. |
| Basic Information | Right next to the profile picture, you have basic information about the item so you do not need to find them anywhere else. |
| Add New | Click the button and select the module on the list. A new item window pops up. Fill in values, save the item, and the relation to it is created. For more information, go to Work With Relations. |
| Link to Existing | Click the button and select the module on the list. The list of all available modules items appears. Select the item you want and the relation to it is created.  For more information, go to Work With Relations. |