Bonuses Module Introduction
Bonuses module in eWay-CRM allows you to manage bonuses in projects.
The financial manager has the option of defining the approval process that precedes the granting of bonuses to users. For example, a project manager can request a bonus for the programmer who designed and implemented an innovative solution to an issue.
Due to the possibility of creating relations, you can relate a bonus with a user and also with a project. The bonus will be automatically added to the project costs.
Bonuses Tab
If you want to go to the Bonuses tab, open the User window of a particular user. For more information, go to chapters Users Module Introduction and Relations Tab System.
Bonuses tab shows a complete list of all bonuses that were related to the user.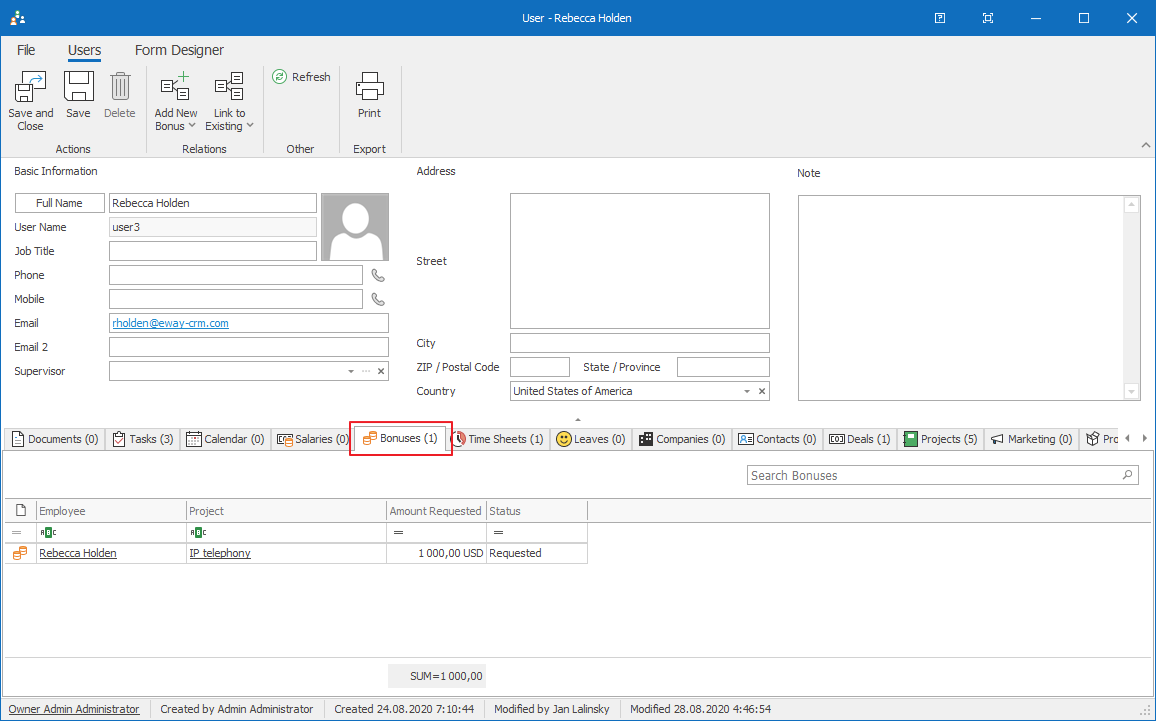 Bonus Management
Create new bonus – detailed information about item creation can be found in the chapter: Add New Bonus
Edit existing bonus – detailed information about editing can be found in the chapter: Edit Items
Item removal – there are several ways to remove an item. They are described in the chapter: Remove Items. Specific relations of the module allow you to delete the bonus only from its own dialog.
Bonus Window
Double-clicking a selected bonus will bring up its working window. The same Bonus window, without pre-filled data, will appear when creating a new bonus. It's up to you to enter all the necessary data.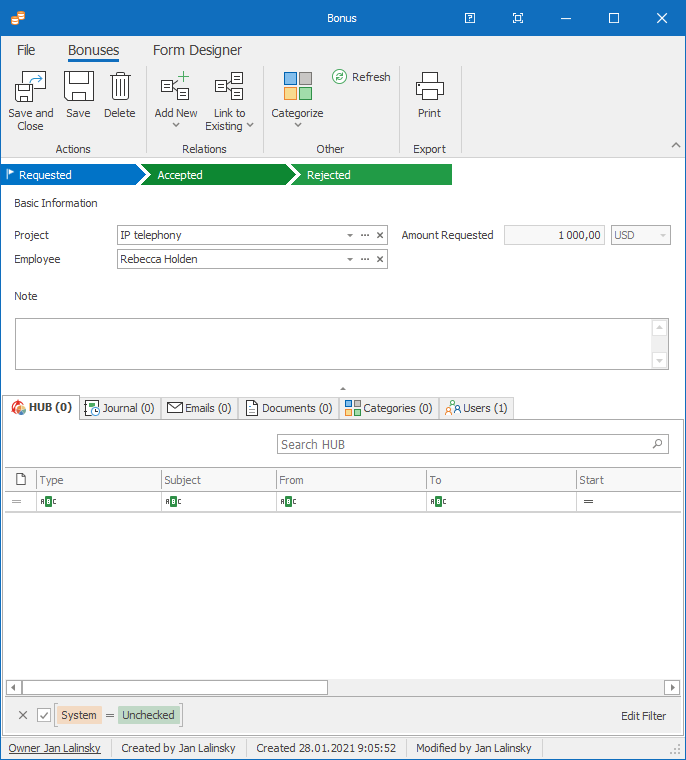 Project

You choose the project to which you want to relate the bonus.

If you want to calculate only accepted bonuses as projects expenses, you can set it by the Accepted Bonus Status setting.

Employee

It is automatically filled due to the relation with the user.

Amount Requested

The value of the bonus.

Note

General text you want to add to a bonus. For more information about the field, see Note Field.
For other general information on working window, go to Item Dialog.
Workflow Panel in the Bonus Window
In the top part of the Bonus window, there is a workflow panel. The steps of the workflow depend on the settings that are applied in Administration Center in eWay-CRM.

It is possible to have pre-defined values, for example, Requested, Accepted and Rejected.
For more information about workflow, go to the chapter Workflow Panel.