Availability: New Administration Center is available since eWay-CRM 6.0.0.
The Manage Subscriptions section shows you your licenses and allows you to buy new ones or change your current subscription in any way you need.
In the article, you can find:
The Manage Subscriptions section is under Billing in the Administration Center.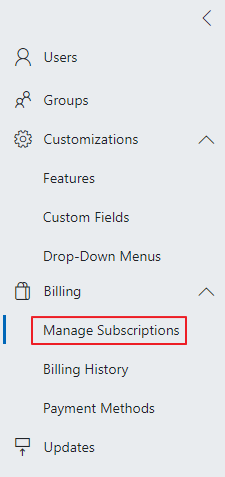 eWay-CRM Licenses Overview
In the Manage Subscriptions section, you can see all possible eWay-CRM licenses. Currently these are: Basic, Essential and Enterprise that are described in this picture: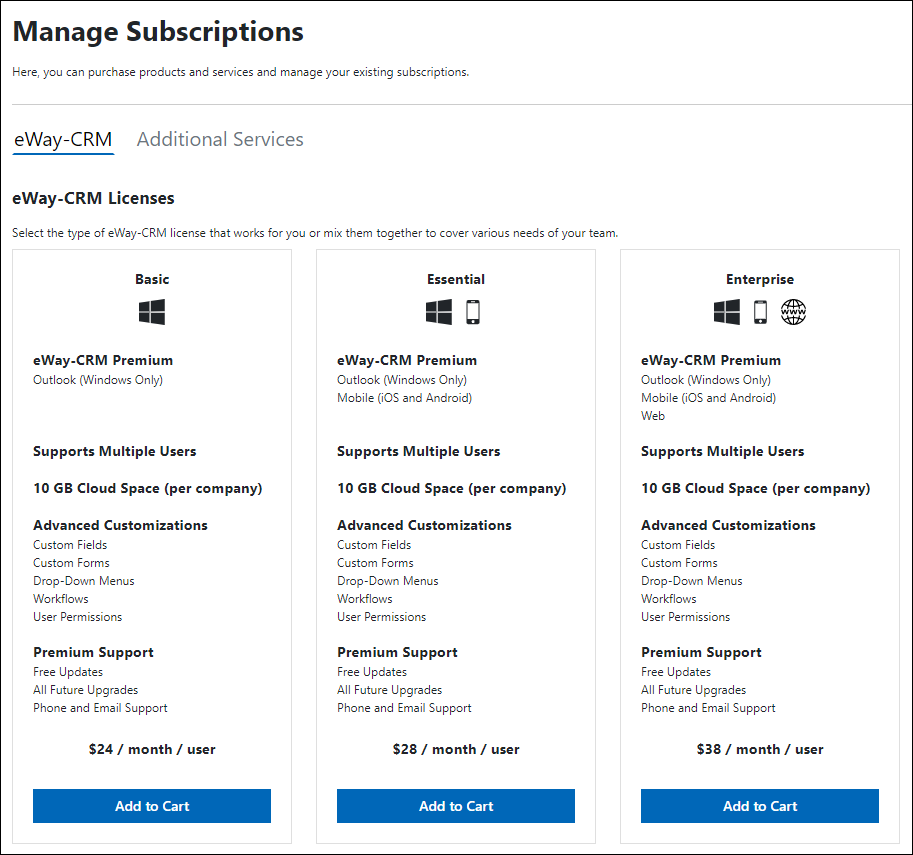 License Selection
When you click Add to Cart, you can select number of users who will use the specified type of license. You select number of users and then you can Finish Order (see Buy License) or you can Continue Shopping.

If you continue shopping, you can add other licenses to your cart. As soon as you select all you want, just click Finish Order.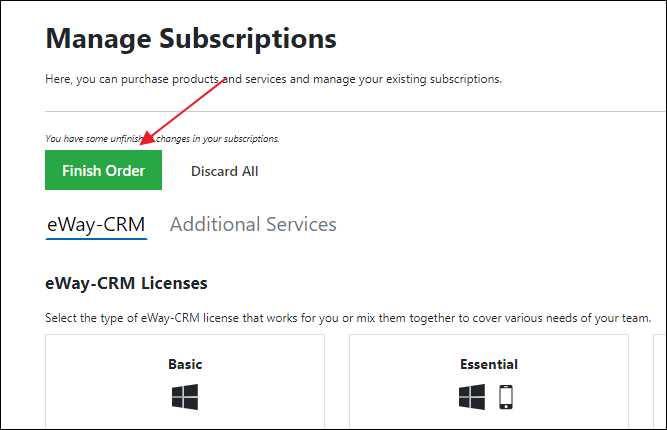 eWay-Cloud
When you are using eWay-Cloud, you can increase its capacity (e.g. when 10 GB that are standard part of any license is not enough). Just click Edit Subscription and select new capacity.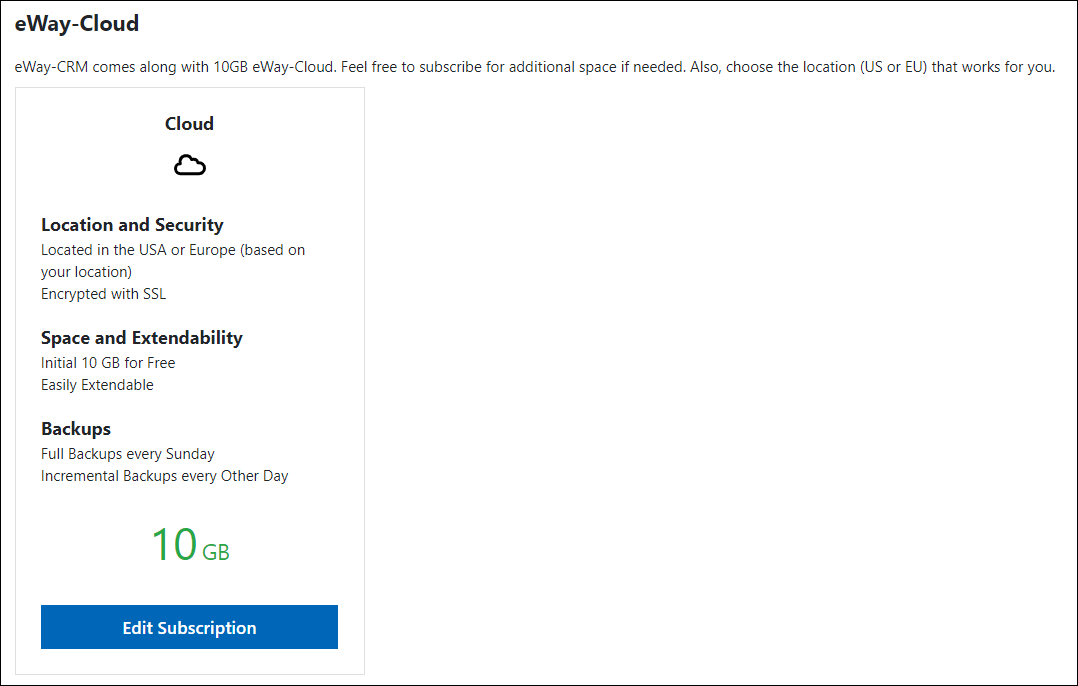 Click the Finish Order to complete your order (see Buy License), or you can Continue Shopping and add some new license.

Additional Services
 Next to licenses, you have also the possibility to buy other services: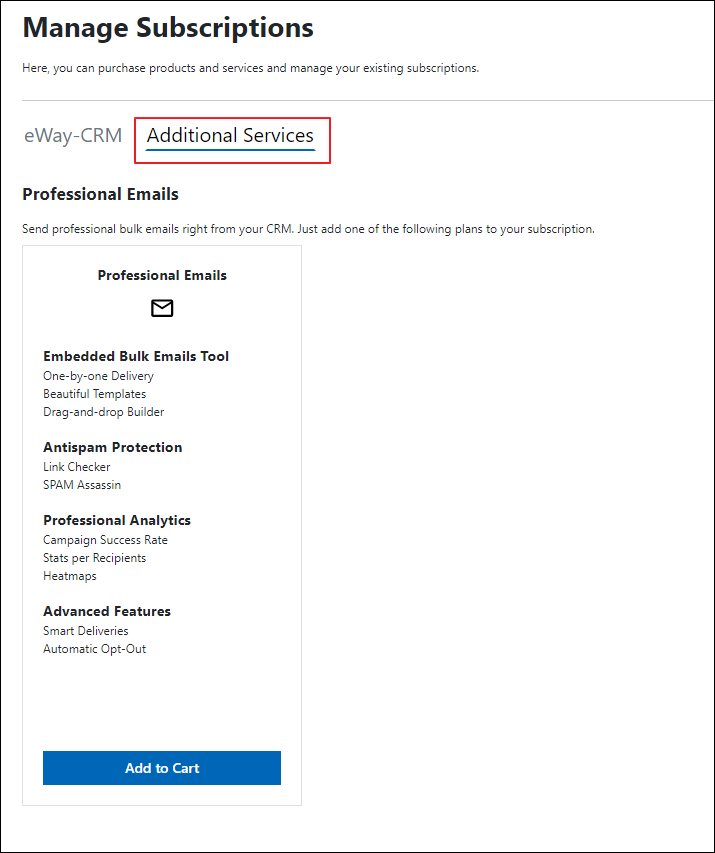 You can add these services to the cart:
Buy License
If you click Finish Order, you will see the first step of the order form: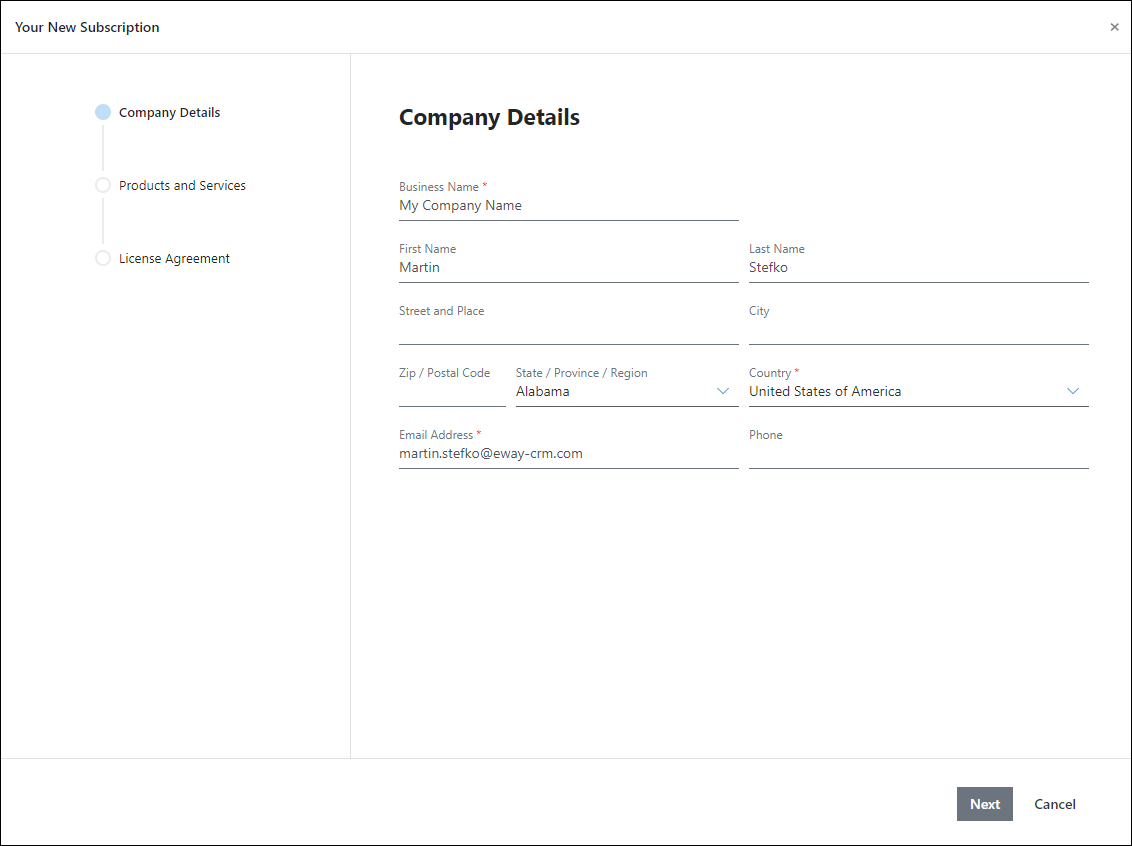 You need to fill in contact information. Fields are prefilled by credentials you insert during the eWay-CRM registration (see Create eWay-CRM Account and Connect to Database). Mandatory fields are Email Address, Country, and Business Name. Sales tax is calculated due to real address in the United States.

If the form is filled correctly, please go on by pressing Next.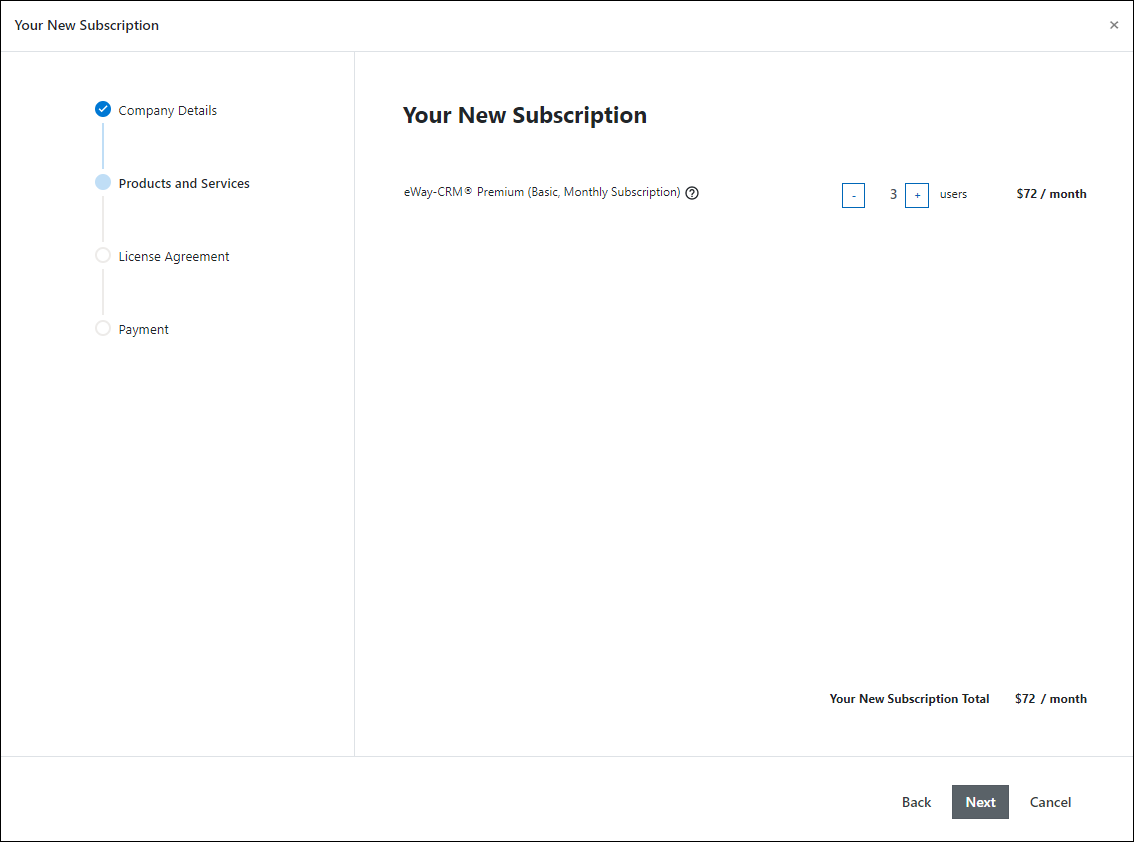 In the second step, you can change number of users for the specified licenses if you want to, or add some capacity to your cloud. In the review, you can see payment summary for each license and for the whole cart.
If the form is filled correctly, please go on by pressing Next.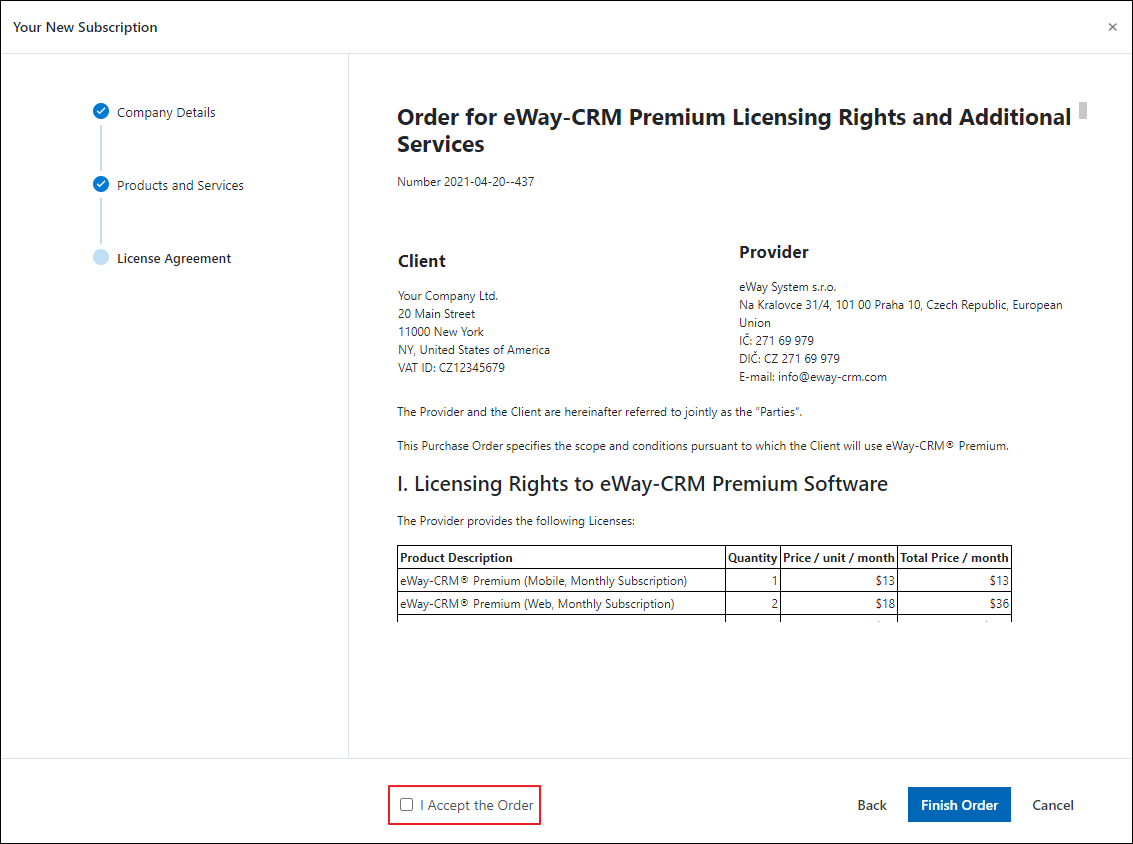 In the third step, you need to mark I Accept the Order check box. If you tried to continue without marking the field, the form wouldn't allow you to and you would see the red note (as in the picture below - field text is in red color).
If you agree and you marked the check box, please go on by clicking Next.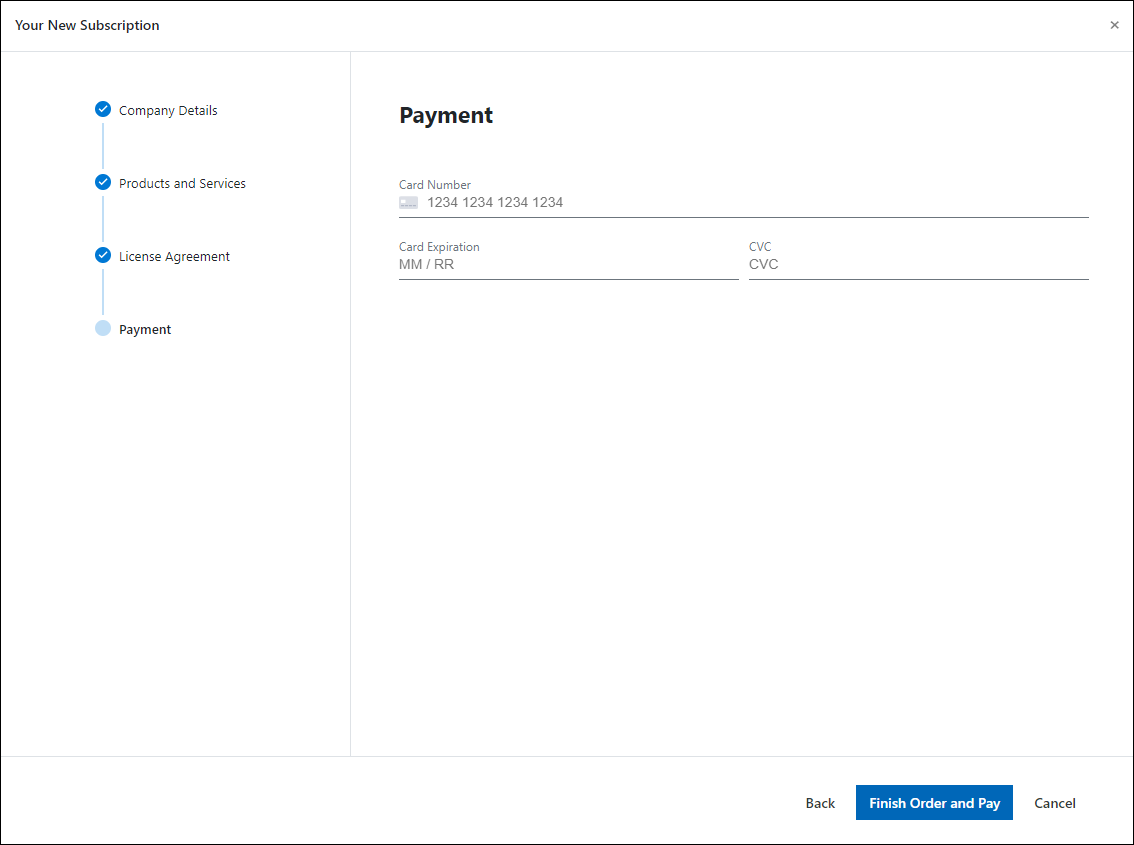 This is the final phase where you use your debit/credit card for the payment: Just insert card information - card number, expiration date and CVV.
When you set card, finish the process by clicking Finish Order and Pay. The payment will be withdrawn from your debit/credit card. The chosen card will be automatically used for the payment next month. You can always change the card - see Billing Details.
Right after the payment, you can Redistribute Licenses or Add New Users.

For each purchase, an invoice is automatically created - see Billing History.
Change Existing Subscription or Unsubscribe
If you already have licenses, you can change its number or unsubscribe them: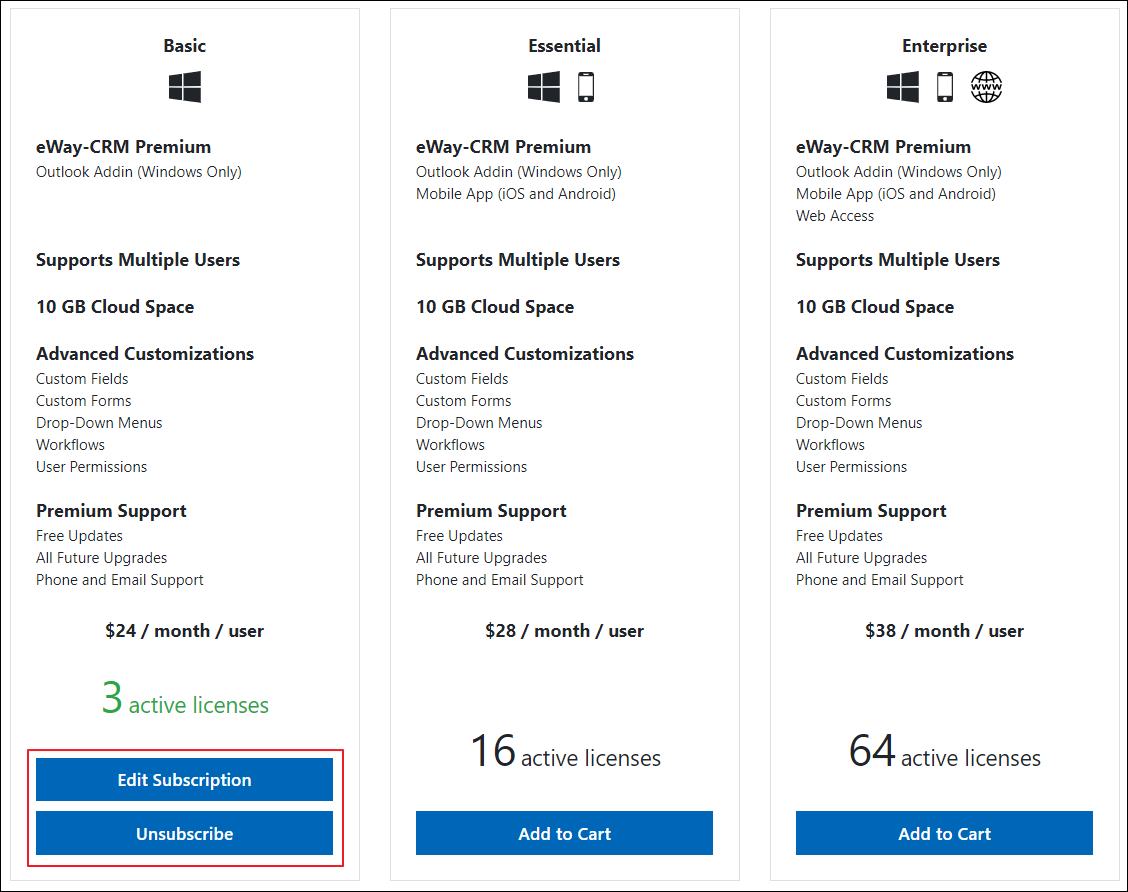 Edit Subscription
If you click Edit Subscription, you can increase or decrease the number of paying users. To finish changes, please follow steps as for Buy Licences.
Unsubscribe
If you click Unsubscribe, the whole license will be cancelled.
Important: If you unsubscribe, e.g. Basic, all users with this license won't be able to use eWay-CRM - it won't synchronize.