If you have the appropriate permissions, you can add a new goal to a chosen user. You do this by clicking Add New on the User window ribbon and selecting Goal.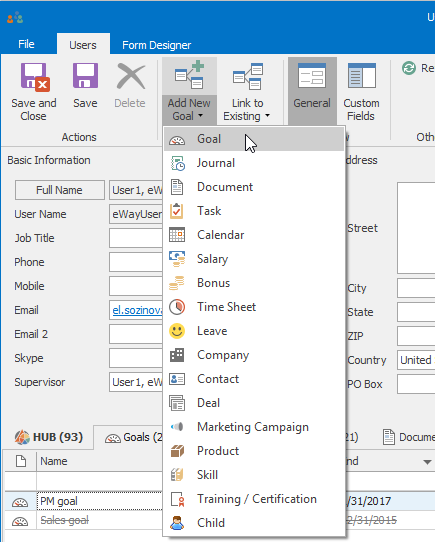 A new Goal window will open and you can fill all the required values.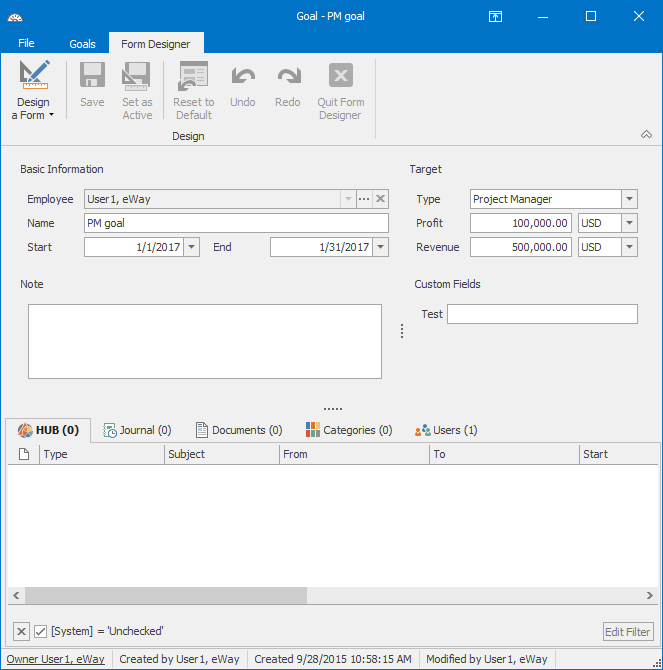 | | |
| --- | --- |
| Employee | It is automatically filled due to the relation with the user. |
| Name | You can specify your goal with a text title. |
| Start and End | It determines the period of the goal's validity. |
| Type | The default types are Sales Manager, Project Manager and Account Manager, but you can add new types in the Administration Center. The default calculation is set for the default goals types. |
| Revenue | Set the value of the revenue you want to reach. |
| Profit | Set the value of the profit you want to reach. |
| Note | General text you want to add to the goal. For more information about the field, see Note Field. |
After filling values, you save the goal clicking the Save and Close or Save button in the top left part of the Goal window.
After saving, the goal will be shown in the Goal tab of the User window, where you also can see the progress of your goals - more information about automatic calculation can be found in the main article about Goals.