Price List Module Introduction
Thanks to the Price List module, a sales manager have a simple access to all type of products in all companies and he can specify what the prices of products for selected company will be. You simply choose company and set the valid price for specific product you want to sell to the company.
A look at Price List gives you information which products have sales in relation with a company, what discounts you have set for companies and what the final price of product is.  Price and discounts can be changed and adapted to your business needs.
Price List Tab
If you want to go to the Price List tab, open a Companies window. For more information, go to chapters Companies Module Introduction and Relations Tab System.  The similar Price List tab is created for the Products module.
The Price List tab shows a complete list of all products in your eWay-CRM. You can edit prices of products for selected companies.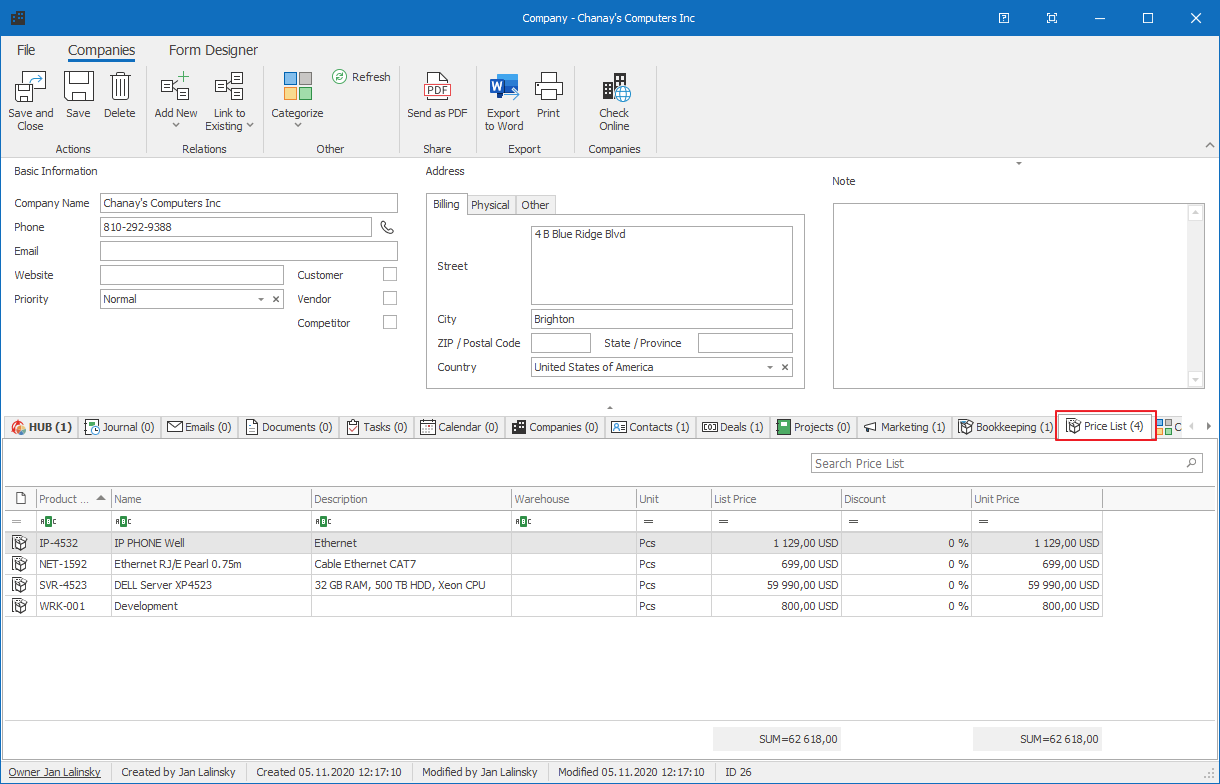 Double-click the item in the list will open a specific dialog (see below) where you can define specific price that will be related with a company and products.
If you right-click an item in the list, you can open (the Open button) the Products window, where you can edit Sale Price or Additional Discount.
Price List Window (Individual Discount)
Double-clicking selected products will bring up the price and discounts working window. The Individual discount window can also be opened by right-clicking the item in the Price List and clicking the Set Individual Discount button. You can also select more than one products and set united Individual Discount or Unit Price for all of them.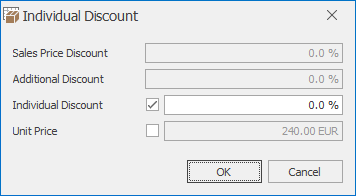 | | |
| --- | --- |
| Sales Price Discount | The value is shown in the case that the Sale Price was added. This sale price is a discount for all products that is offered to a company. The field cannot be changed in Individual discount dialog. |
| Additional Discount | If the company has any Additional Discount, it is shown in this fields. The field cannot be changed in Individual discount dialog. |
| Individual Discount | You can fill in any individual discount for selected products. You choose the discount yourself in percent. If you select this option, the Unit price cannot be used. |
| Unit Price | Instead of any discount, you can define the fix price for products. The selection of this option is leading to ignoring all discounts above. If you select this option, the Individual discount cannot be used. |