Right-clicking an item will display the context menu for that particular item.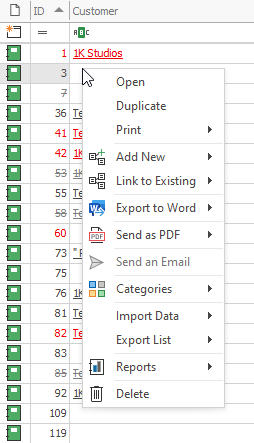 Work With Context Menu of Item
You can open a selected item and delete or print with all details thanks to this context menu. You can also duplicate a selected item, which can then be used in outsourcing projects or in technical support, which you register monthly.
Duplicate Item
Select Duplicate in the item context menu. The window for working with a new item will appear. The item was duplicated with details and relations – now you can simply, for example, change the month in name of the item and save it.
Add New and Link to Existing Item
Availability: This option is available since eWay-CRM Outlook 6.1.0.
Right in the context menu above the item, you can create a new item related to it or link an existing one to it, you just select from what module. For more information, go to the Relations article.
Export of Item
All items from the list can be exported to XML and XLS (MS Excel) files using the item context menu. In this way, you will export all items as they are currently displayed – including all filter conditions or with item sorting.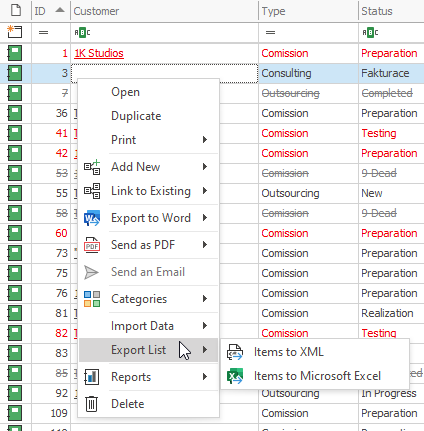 Send as PDF
Availability: Sending item as PDF is available since eWay-CRM Outlook 5.4.4.
If the item can be exported to Microsoft Word template, it can be sent as PDF.
Just right-click the item or items and click Send as PDF (or select template if you have more than one). The item will be exported to the PDF file that will be add as attachment into new email.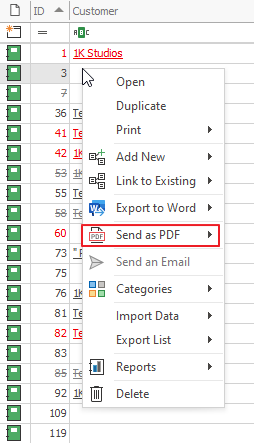 Tools for Correspondence
If you are working in the Companies, Contacts or Users modules, you can send an Email to a chosen item directly from eWay-CRM. And you can also do a bulk print of labels and envelopes (more information in the article Print Labels and Envelopes).
Work With Files
If you are working in the Documents or Emails modules, you can open files with applications to which the files are associated by using the option Open. For example Emails in MS Outlook, Documents in MS Word and so on. If you select Open in eWay-CRM from the context menu, the eWay-CRM item window for the chosen item will appear. You can also edit notes for a selected Email or Document, type of Document or its workflow status.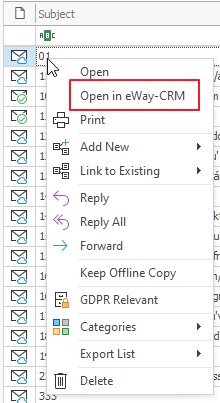 Note: The same context menu as the context menu outside of the item will appear if you right-click more selected items.