Print Labels and Envelopes
eWay-CRM gives you option to mass print labels and envelopes and thereby simplify your bulk communication. Printing labels and envelopes can be executed from the Companies, Contacts, Deals and Users modules.
In the Companies (or Contacts, Users and Deals) list, select all items whose addresses you want to print. You can use the Ctrl or Shift keys on your keyboard to choose the items you want, or you can use Ctrl + A to select all viewed items. Right-clicking the selected items will display a context menu. Choose Print > Labels or Print > Envelopes.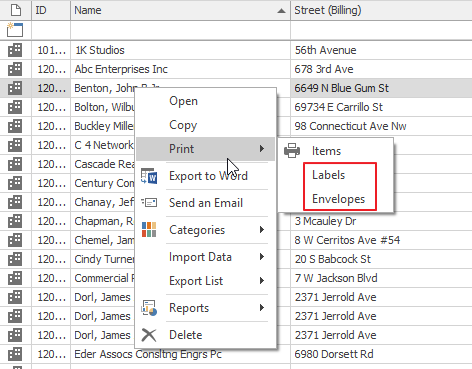 After choosing one of these options, MS Word will launch and there will be a window for selecting the format of your label or envelope. Pick a format of label or envelope and continue by clicking the OK button. MS Word will display a preview of the labels or envelopes that will be printed. These labels or envelopes can then be printed directly from MS Word.
For font setting of printed labels, go to:
For font setting of printed envelopes, go to: