Print Label Font Name gives you the opportunity to adjust the font type which will be used for labels printing. More information about bulk correspondence can be found in the chapter: Print Labels and Envelopes.
Double-clicking Print Label Font Name in the list will bring up the Global Setting card.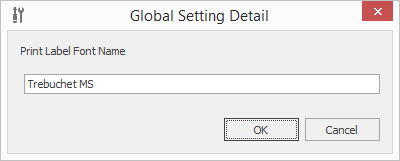 Field on the Global Setting Detail
The value field is intended to enter the adjustment value. Fill the font name that you want to use for printing labels. The font name must be written as it is displayed in the MS Word font selection, for example Trebuchet MS or Times New Roman.
Clicking OK in the lower part of the Global Setting card will save changes and close the card. If you wish to close the Global Setting card without saving any changes, click Cancel.