Share Contacts Between eWay-CRM Mobile and Other Android Applications
Since eWay-CRM Mobile 1.1.6, it is possible to share contacts from eWay-CRM Mobile with other applications on your smart phone. for example, you have a contact in your eWay-CRM, but not in your default calling application. Now, you can share contacts from eWay-CRM Mobile and easily find this contact also in your contacts and use it for calls, chat or other activities.
Requirements for Correct Sharing
Important: All changes on contact you make in eWay-CRM Mobile, will be seen in other applications, but you cannot change eWay-CRM contact values in other applications.
Function has its own limit, so you will share contacts only when you really want to. Basic requirements are:
User has permissions to export modules and to view tem in eWay-CRM.
Global settings related to contacts sharing are correctly turned on.
You permit that eWay-CRM Mobile can have access to contacts on your smart phone.
Global Settings Related to Contacts Sharing
These settings are:
Setting has these values:
Disable for All - users cannot share contacts on their phones between eWay-CRM Mobile and other applications.
Enable for All - all users have forced sharing on their phones between eWay-CRM Mobile and other applications, but user still must permit eWay-CRM Mobile to access specific modules. If this access is not allowed, sharing is not running.
Let It to the User - user decides whether he or she wants to share contacts from eWay-CRM Mobile with other application on his or her smart phone.
Permissions on Your Phone
If the sharing is forced or you decide to share contacts, you always have to confirm that eWay-CRM Mobile can access to your contacts. This access is needed to share contacts with other applications. You need to tap Allow in the dialog that pops up.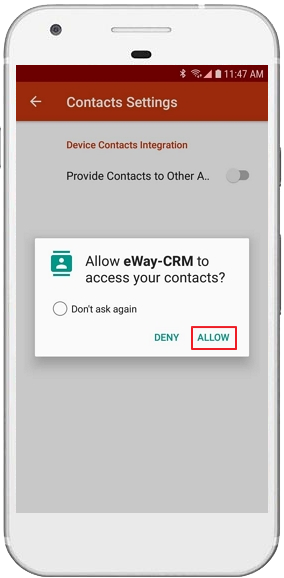 If you do not permit access, sharing will not be available.
Share Contacts With Other Applications
When global settings (see above) is set to Let It to the User, you can run sharing of contacts by yourself. Contacts (phone numbers, addresses, etc.) can be shared from these eWay-CRM modules:
Contacts
Companies
Users
Deals
Just go to eWay-CRM Mobile settings: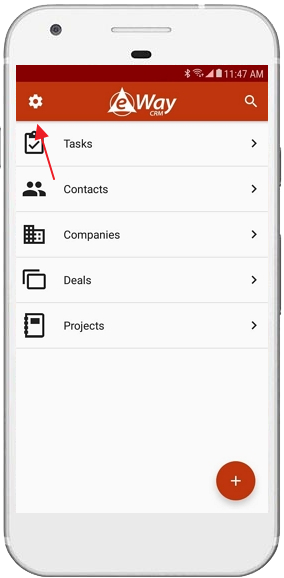 Select Device Contacts Integration: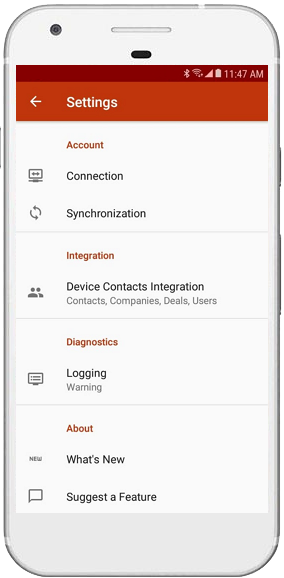 Turn on buttons next to modules whose contacts you want to share.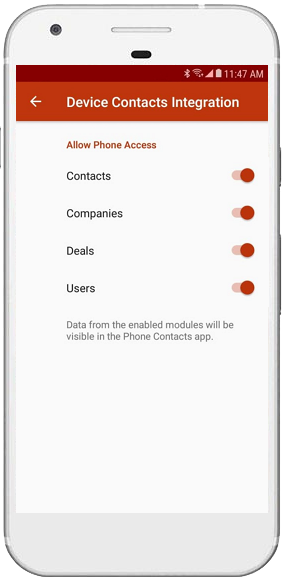 You will be immediately informed that sharing of contacts starts. You can see the progress in the notification area: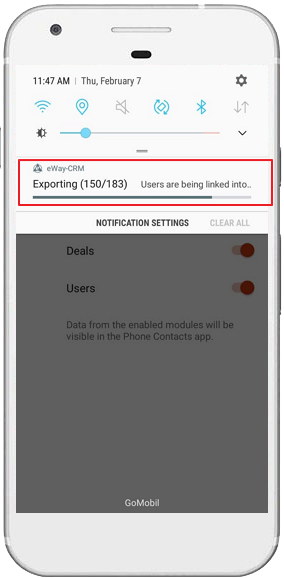 As soon as the providing of contacts is completed, you can see eWay-CRM Mobile contacts in other applications on your phone and you can use them there. From this contact, you can get to eWay-CRM detail of contact or create a journal to this contact (contact and its company will be pre-filled).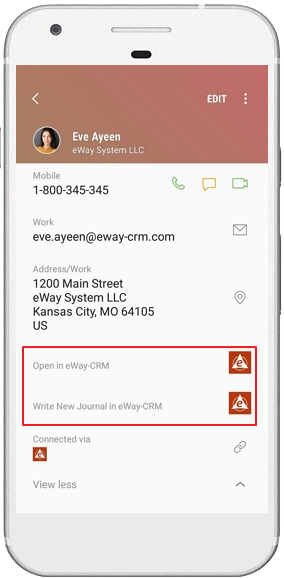 In eWay-CRM Mobile, there is a link to contact window in application you are using for contacts on your phone: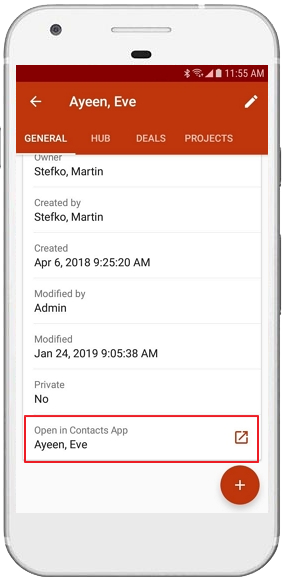 If you want to turn off the sharing of contacts, just go back to Setting > Contacts and turn off the switch. You will not share contacts, and these will be removed from other applications - it is not real removal, contacts are not provided to other applications any more. You can turn on sharing of contacts again, only tap the switch.