"The operation failed." Error When Sending an Email
Description
The email address in Bcc cannot be resolved. You will see this error message.

In the Bcc field, there will be something like this:

Version
All versions of eWay-CRM
Difficulty
High
Resolution
Option 1: Check that the address list is set correctly
In the Home ribbon, click Address Book in the Find panel.

Make sure that Global Address List is selected.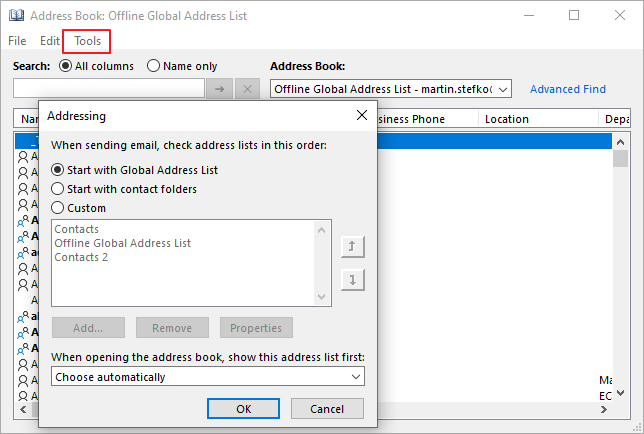 Option 2: Try to repair the data file
In the installation folder of Microsoft Office, there is SCANPST.EXE file that enables you to scan and repair issues in the data file that is related to the email address. In some cases, this tool can solve the problem.
Option 3: If this works on other profiles, try to create a new one
The most effective way is the resolution often recommended by Microsoft. It is the recreating of the profile and remapping of email addresses to the new profile.
After email mapping, MS Outlook will synchronize all data. Microsoft Exchange, Kerio, and other similar services will download all data - emails, tasks, calendars, etc. If you are using IMAP or POP3, these services synchronize only emails. Your tasks, calendars, and others will remain in the old profile.
To create a new profile, go to Windows Control Panel and select Mail, then click the Show Profiles... button. In the new window, click Add... and follow the guide.