Update eWay-CRM to the Up-to-date Version (Complete Manual)
Availability: New Administration Center is available since eWay-CRM 6.0.0.
eWay-CRM consists of server component and client component for Microsoft Outlook. There are described all steps to update eWay-CRM:
Step 1: Update Server Component (Administrator Permissions Needed)
If you want to install eWay-CRM update or find out whether you have up-to-date version, go to the Administration Center.

Click the Updates section in Administration Center menu.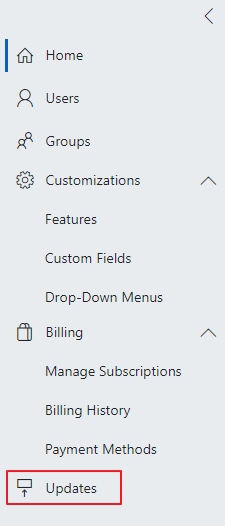 Every time you click the Updates section, the system automatically checks whether there is new version. Window will inform you whether the new version can be installed or not. Click the Install button to install update of eWay-CRM server component. In the dialog, you also see the changes in the version you are ready to install.

If you press the button, wait until the installation is successfully completed. This will be indicated by the dialog you can see in the picture below. Now, you have the up-to-date version.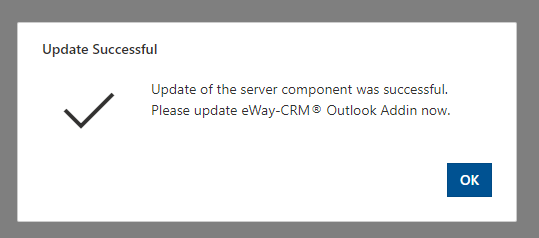 After clicking OK, Administration Center logs off. Then, each user will be available to update its own client version of eWay-CRM - see Step 2.
If you want to be sure that there is no new version available, you can go back to Administration Center > Updates and click the Refresh button.

When the dialog remains same, no update is available. If the dialog changes, you can install new version as is described above.
Server Update Notification
eWay-CRM sends notifications about start and end of server component update. Using the Name of Group Which Will Receive Server Update Status Information settings, you can set what group of users receives the notifications.
When the web service update is run, users will receive email that the synchronization is temporarily unavailable:

If the update of web service is successfully completed, users will receive second email about successful update:

Error During Server Component Update
If the update of eWay-CRM server component breaks because of error, update will be stopped and eWay-CRM will be return to the state before update. You will be able to use non-updated version of eWay-CRM.
Error of server component update pops up in the dialog (see example below) so you can send it to eWay-CRM technical support.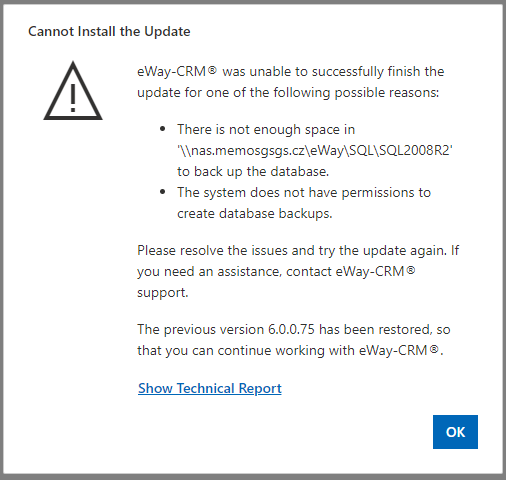 Step 2: Update Client Component of eWay-CRM
Description is in this article: Client Update.
Step 3: Download Install File for Manual Update of Client Component (Administrator Permissions Needed)
You need to go to Administration Center > Updates.
You can see current version of your eWay-CRM under the availability text. The link under it gives you the possibility to download the eWay-CRM installation file - the version of the installation file is same as the number of your current version. Just click the link and download the file.