Double-clicking a report type will bring up the Report card. When you create a new report a card without pre-filled data will appear – it is up to you to enter all the necessary data.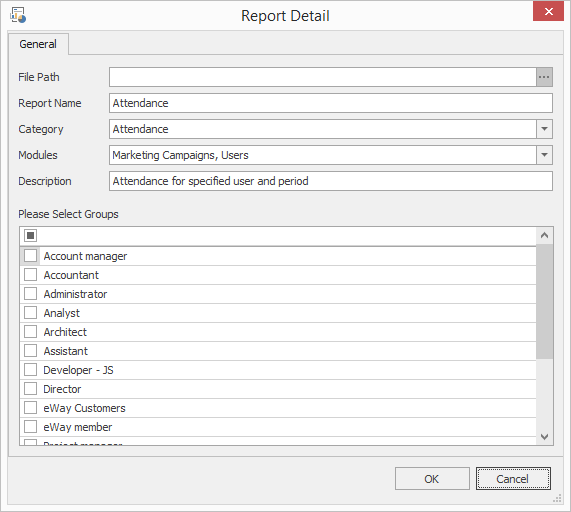 Field
Description
File Path
Field is intended for inserting the report file path. When you click the icon in the right part of the field the dialog for searching the hard disk will be displayed. You need to select the desired file path and consequently the path will be displayed in the File Path field.
Report Name
The report name that will be in the same way displayed in the report list to users.
Category

Select the category into which the report will be shown in reports list in eWay-CRM. Categories are created in the Administration Application in Drop Down Menus in the Report Category drop down menu – more information about drop down menus in eWay-CRM can be found in the article: Drop down menus.

Modules

You can select modules from which the report will be instantly accessible via the quick access.

Description
Enter the description that is displayed below the report name in eWay-CRM.
Please Select Groups

Area is intended for selecting user groups whose members will see the report in the system and will be able to work with it. The list of all roles created in eWay-CRM is situated here. Marking the check box by the role name will make the report available for the given role.

The empty row above the groups list is intended for group filtering. When you enter a text into this row, only the groups whose names begin with the given string will remain in the list. If you mark the check box in the filtering row, only the groups which have a marked check box by their name will remain in the list. Filtering conditions are displayed in the lower part of the groups list. Clicking the Edit Filter button will bring up the Filter Editor window – for more information take a look at the chapter: Filter Items.
Clicking OK in the lower part of the Report card saves the changes and closes the card. If you wish to close the Report card without saving any changes, click Cancel.