Enable Contact Categorization Dialog
Enable Contact Categorization Dialog setting turns on or turn off the auto-contact-categorization feature in case the contact is imported to eWay-CRM.
In case the company pays a big attention to proper contact categorization (for example due to the permission policy) it will welcome the functionality. eWay-CRM will automatically display a dialog with a list of categories and user will be asked to choose them. It works well even if the contact is created in cell phone. If you turn on this feature, every user can turn on the functionality in the eWay-CRM Settings Dialog.
Double-clicking Enable Contact Categorization Dialog in the list will bring up the Global Setting card.

Field on the Global Setting Detail
If the check box is marked, the function is activated and categorization dialog will be displayed.
If the check box is not marked, the function is deactivated and categorization won't be enabled.
In the case the setting is turned on, when you create new contact you will see the dialog below after saving it. All categories that you marked as Category in the Groups section will be displayed in the dialog.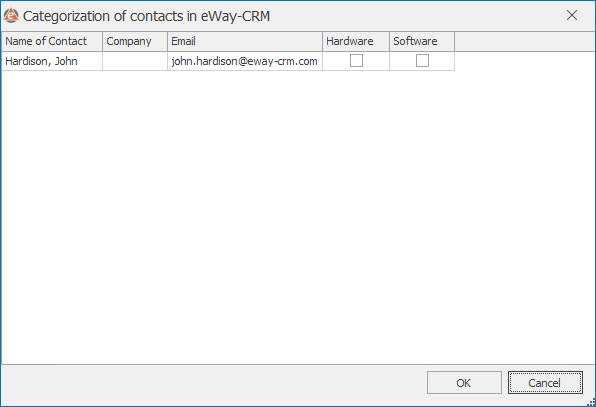 Clicking OK in the lower part of the Global Setting card will save changes and close the card. If you wish to close the Global Setting card without saving any changes, click Cancel.