If you are working with projects, you may need to create different types of projects but with similar workflows as is in the existing project. It is pointless to create whole new workflow - eWay-CRM enables you to copy existing workflow with all components into a new workflow. This function can be used not only for Projects, but for other modules that are using workflow.
Go to Administration Application and click the Workflow Diagrams section where you can choose the workflow you want to copy. Then, click the Copy icon in the Home tab of the Administration Application.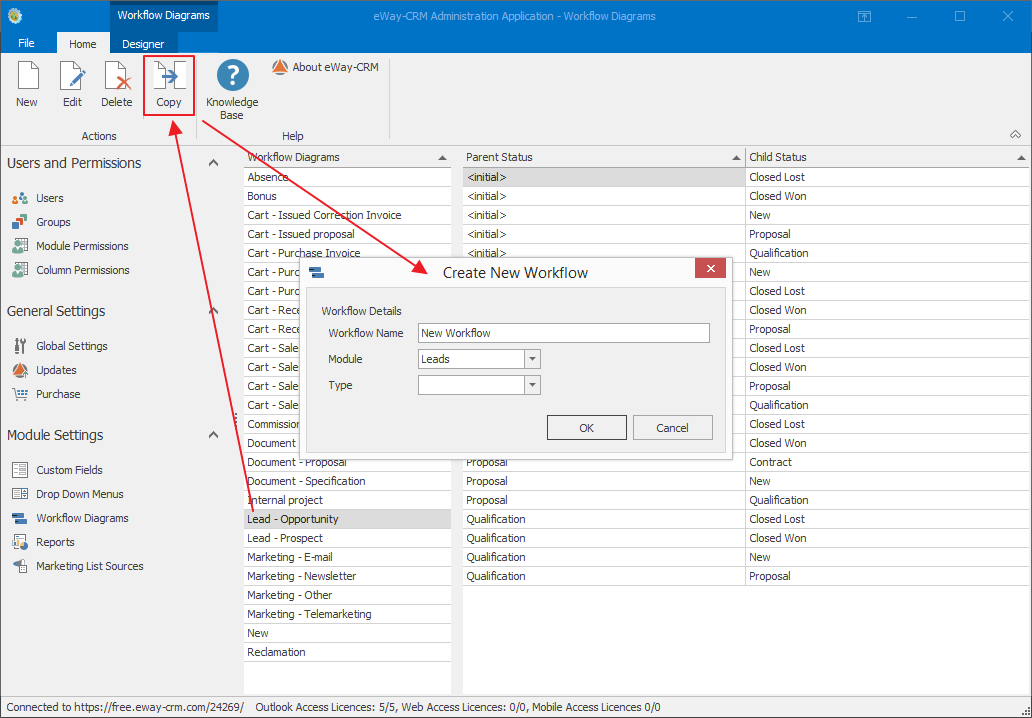 The window that will open is same as the one you can see while creating new workflow.
Enter the desired name into the Workflow Name field. The workflow will be listed with this name in the workflow list – for more information take a look at the chapter: Workflows List.
Then select a module in the Module field. The workflow will be used in this module.
You can select from the all types of module items that are defined in the drop down menu in the Type field – more information can be found in the chapter: Drop Down Menus List. In the Type field select the type for which you wish to create a workflow with copied attributes.
The OK button confirms your choice. The Cancel button closes the dialog without saving changes.
When you confirm the dialog, the new workflow will appear in the workflow list where you can modify its statuses or modify other aspects. New workflow will contain all statuses and potential actions as the default workflow.