Users Projects Costs Pivot
This report informs you about the costs of users on projects in a selected time period.
Calculation Requirements
It is necessary that:
User who is generating the report has the appropriate permissions to view time sheets, deals and projects.
Report Parameters

| Parameter | Description |
| --- | --- |
| Start | Beginning of the period. |
| End | End of the period. |
After changing values, the report will be automatically generated again.
Generated Report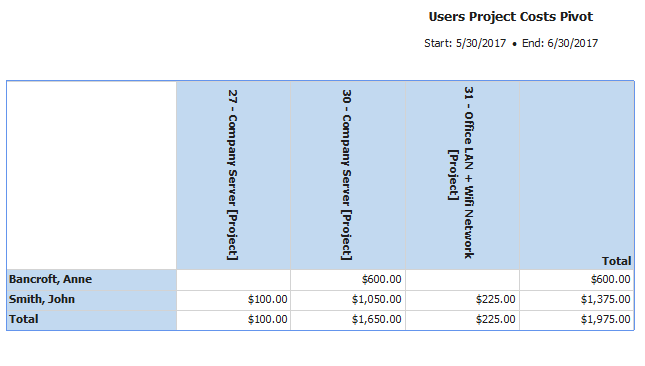 The rows represent users and the columns are projects/deals. The table includes all users that have created time sheerts in a selected time period and all projects/deals that were related to these time sheets in a selected time period.
The table cell shows the costs your company incurred for a user on particular project.
The final row of the table shows total values. In the relevant column, there is a sum of the costs of all users for one project/deal in a selected time period.
The final column represents the sum of all costs for one user on all related projects.