The report describes and summarizes the result of the marketing campaign that was connected with the Professional email service.
Calculation Requirements
The requirements for values to display in the report are:
Marketing campaigns are created as Professional email.
User who is generating the report needs to have appropriate permissions for showing the marketing campaign.
For the best informative function you should have be logged in to the Professional email account. For more information about the service and connection with eWay-CRM, go to Integrate Marketing Module With Professional Email Service.
Report Parameters

| Parameter | Description |
| --- | --- |
| Marketing | Select a marketing campaign you want to report. If you select the (All) , you generate statistics for all marketing campaigns of type Professional email. |
The report will be generated after the selecting the parameter. There will be four charts in the report.
Generated Report
The headline of the report shows the report name and the name of the marketing campaign the report was generated for.
Responses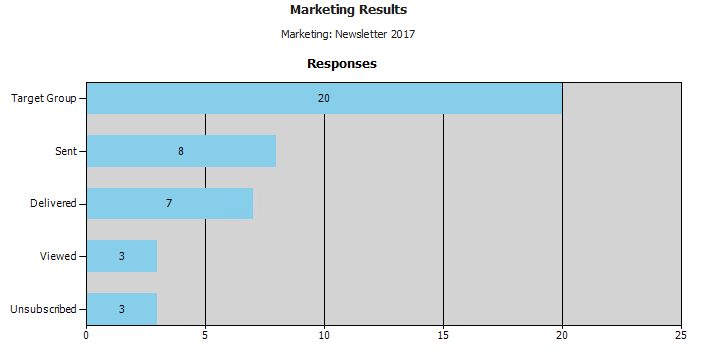 The chart analyses information about email campaign and numbers of emails that were sent and delivered; there are also other information about the campaign results.
| Row | Description |
| --- | --- |
| Target Group | Goup of email addresses you selected for the campaign(s). |
| Sent | Total number of actually sent emails. |
| Delivered | Number of emails that were delivered (email could not have been delivered due to wrong address or server failure, etc.). |
| Viewed | Number of read/opened emails, if the server provides this information. |
| Unsubscribed | Number of contacts that unsubscribed from your newsletter due to this campaign. |
Unsubscribed Reasons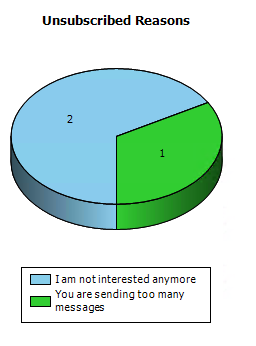 The campaign addressee has an option of the unsubscribing from your campaigns, for example, because he/she doesn't want to receive your emails anymore. If the reasons of the unsubscribing is stated, these reasons will be displayed in this chart, from which you can read out the main reason of unsubscribing.
Not Delivered Reasons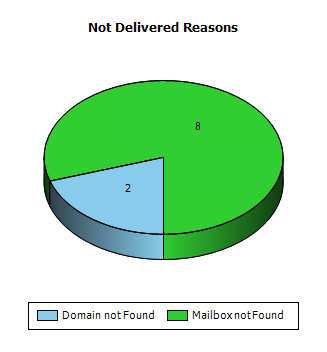 There is a possibility that some emails won't be delivered. This chart helps you to learn whether your email database is getting outdated or there is not a need of updating or correcting (typing errors) some contacts.
When Do People View Your Emails
The last chart shows days when your emails are viewed. On the basis of these data you can determine the days that are suitable for sending mails. The sample chart shows that it is not appropriate to send emails during week-ends, but it would be appropriate to send them on Thirsdays evening because addressees are active next days.