You find the Print button in the toolbar of the window of each saved item in eWay-CRM. No matter whether you currently work with Projects, Companies or, for example, Time Sheets, you can always use this function.  It is a standard function that allows you to print basic information about a particular item. The Print function is suitable in cases when legislation or company policy require the keeping of documents in their physical form.

Printing an item can be also initiated from the context menu of an item in the module list. In this case, you can select more than one item, but you should know that information about these items will be pasted into just one document.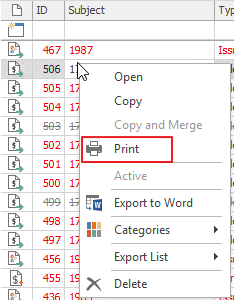 Print Preview
After clicking the Print button a preview window with pre-filled information will open. You can change the background of the document, insert watermark or change print preferences in menu of the preview application.
In the headline of the document will be type of the item and its name. The next sections will differ depending on the type of the printed item. Primarily, there are listed all fields visible in the particular item window. The fields that weren't filled in the item window or contain default value (e.g. Price is 0.00), will not be included in the printing.
The last part of the document contains to tables ordered data about items that are related to the printed item. These are items that you find in tab system in the bottom part of the item window. Modules in the print preview are in the same order as modules in the tab system of the item. In our example, the Project has related one task and one journal, one time sheet was saved and one bookkeeping record was added.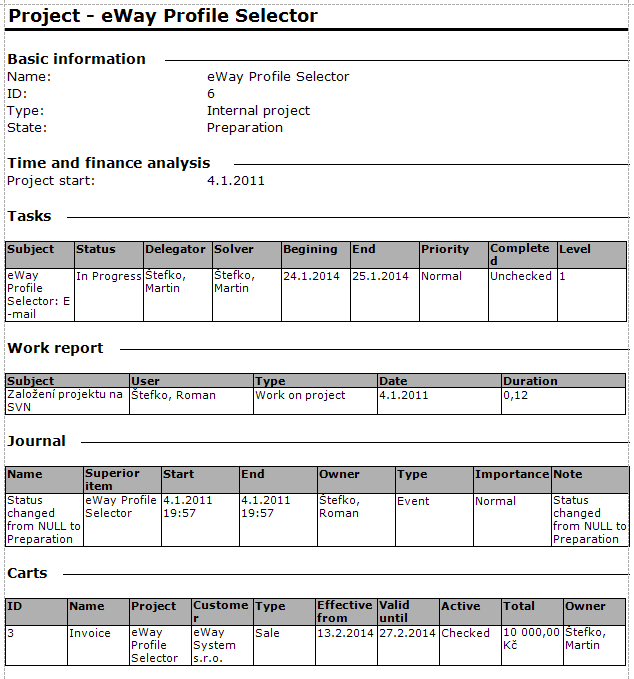 This template for the print function is the same across the whole eWay-CRM system and cannot be changed. But eWay-CRM also allows you to export selected items (e.g. bookkeeping record, project, contact or company) to MS Word using a template that is specifically created for your needs. For more information about exporting to MS Word, go to Data Export to Microsoft Word.