The Telephony tab allows you to select the line for making phone calls right from the eWay-CRM. In this setting you just select the line you want to use for your calls. You can get the line by different ways:
using Asterisk
using Xarios Phone Manager
using TAPIDROID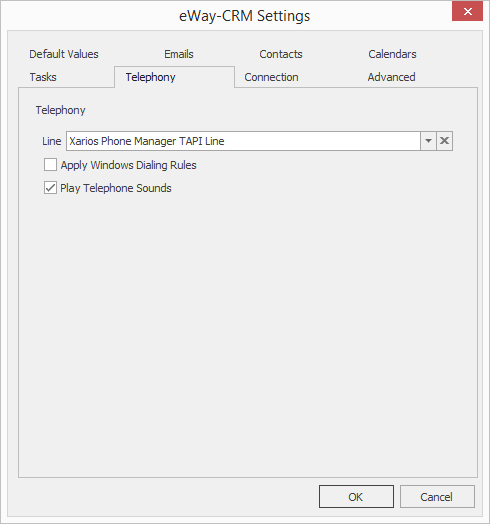 | Field | Description |
| --- | --- |
| Line | When the setting is ready, you will see the list of lines in the Telephony tab where you can choose the one you want. You just select it in the Line field. Confirm your choice by clicking OK. Microsoft Outlook will be restarted to apply the setting. |
| Apply Windows Dialing Rules | The check box allows you to use dialing rules that you have set in Microsoft Windows: Control Panel > Phone and Modem Options > Add new rule or use existing one. |
| Play Telephone Sounds | Some applications, e.g. MicroSIP, can ring with eWay-CRM telephone sound in the same time for one call. This check-box alloows you to mute eWay-CRM telephony sounds, so you will hear only ring tone of one application. |
Now, you can call your clients and business partners via eWay-CRM. For more information about phone calls, go to the chapter: Incoming and Outgoing Calls in eWay-CRM.