Client Installation (eWay-CRM Version Lower Than 6.1.0)
1) Start the Installation of eWay-CRM
Description how to download install file is here (Step 3). Or you can use general link for installation files that is https://download.eway-crm.com/setup/eWayCRM-VERSION.exe where VERSION is current version of eWay-CRM. For example: https://download.eway-crm.com/setup/eWayCRM-5.1.0.46.exe (this link is only a non-functional example!).
Important: If you want to dowload eWay-CRM using link above, you need to now number of newest version.
Shut down all programs of the Microsoft Office pack (Outlook, Word, Excel, etc.). Launch the installation file. You will see the first dialog of the installation guide.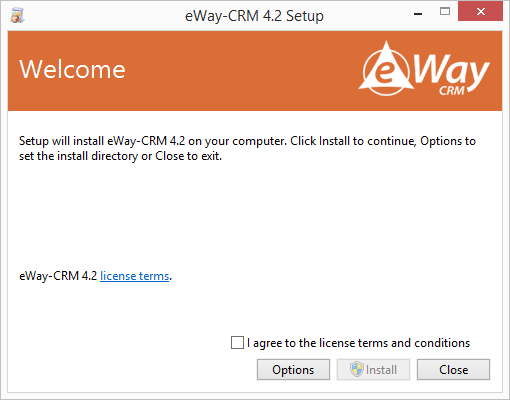 You have these options:
Read license terms that can be also find on our website.
Click the Options button.
Agree with the license term and click Install.
Close the installation window and abort the installation.
2) Options of Installation
When you click Options in the first dialog, you will see new window where you can select folder where to install eWay-CRM. The folder is created in Program Files by default.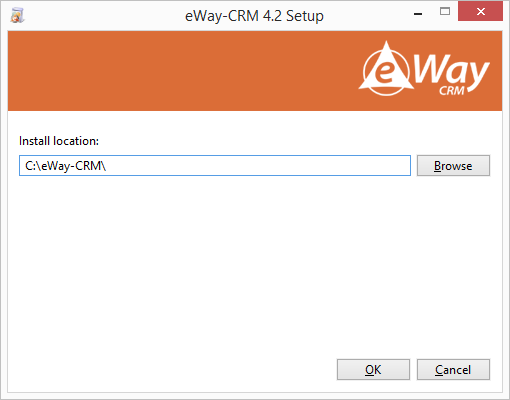 Click OK to confirm your choice - you will go back to the first dialog. You can click Close to abort the installation.
3) Installation
To proceed the installation, you need to mark the I agree to the license terms and conditions check box. If so, the Install button will enable.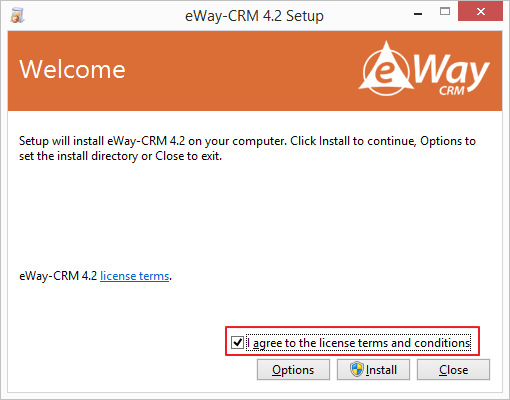 Microsoft Windows may ask you, whether you really want to install eWay-CRM. Please confirm that you want.
The installation begins and you can see the progress by the bar in the dialog: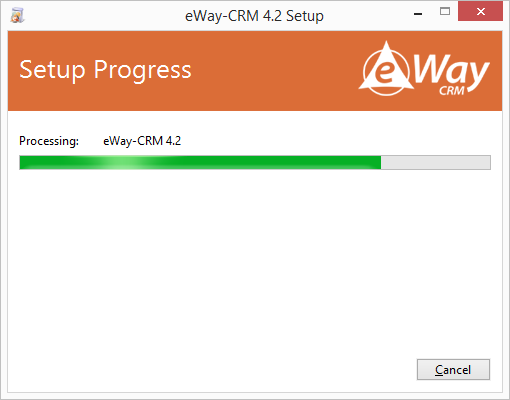 Even during the installation process, you can still abort the installation by clicking Cancel.
4) Successful Installation
Successful installation ends with this window: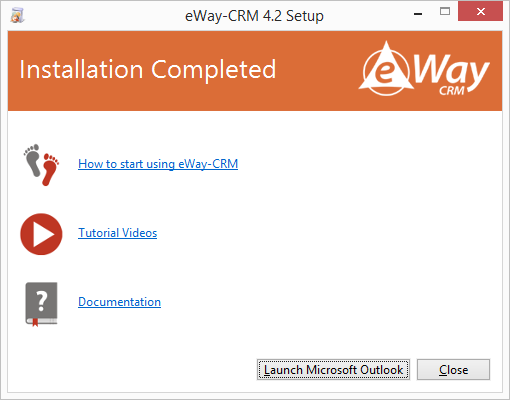 Links gives you the possibility to learn more about eWay-CRM - there is the How to Start Working With eWay-CRM article, you can use the whole documentation or tutorial videos.
The Launch Microsoft Outlook button allows you to run Microsoft Outlook with eWay-CRM immediately. During the first start, you will create eWay-CRM account and your database.