Compatibility of eWay-CRM Desktop With Other Applications (Incompatible Add-ins)
There are currently known to be conflicts with the following applications, which add supplements to Microsoft Outlook during their installation.
ESET Outlook Add-in
AdAware
Business Contact Manager (Supplement could be listed as "Business Contact Manager for MS Outlook" or as Microsoft.BusinessSolutions.eCRM.OutlookAddin.Connect.3)
iTunes (Outlook Change Notifier)
Microsoft Office Outlook Hotmail Connector – Supplements are compatible but might cause problems due to excessive use of memory.
Privacy Manager Form Region Add-in

– Supplement from HP. During sending emails sometimes the error message "Operation wasn't successful" is displayed and the email cannot be sent.

Lištička

from Seznam.cz – sometimes might block the sending of bulk mail from the Marketing module.

RingCentral for Outlook - may crash Outlook
If you have any of the mentioned applications installed and you find that Outlook closes unexpectedly and you don't see the eWay-CRM Desktop toolbars, you will need to disable these supplements and enable eWay-CRM.
The manual for the activation of eWay-CRM supplements and disabling other supplements can be found in the article "I Cannot See eWay-CRM Toolbars in MS Outlook".
Automatic Detection of Incompatible Add-ins
Availability: The function has been available since eWay-CRM 8.0.
eWay-CRM Desktop can detect incompatible add-ins. When you run Outlook with eWay-CRM Desktop, this dialog may appear: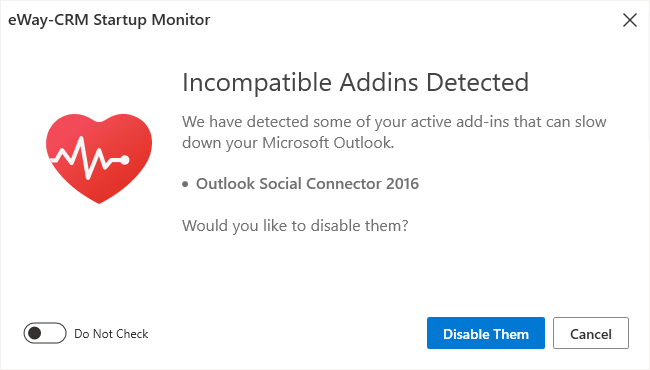 You can see what add-in is incompatible to work with eWay-CRM. just click Disable Item and you deactivate it - issues that were caused by running eWay-CMR desktop and this add-in should be solved.
If you don't want to see this dialog when Outlook is opened, just click Do Not Check. The function can be always turned on in the eWay-CRM Desktop settings - see General Tab.
Specific Errors Caused by Incompatibility of Add-ins
The error related to Outlook Change Notifier:
--- [HASH: 7B2915E380634239CE713964DF992FBD] ---
Error in folder_ItemAdded method
System.InvalidOperationException: This is supposed to be accessed from the main thread only
at eWay.Core.Office.ItemManagers.ItemManagerBase.get_ItemStore()
at eWay.Core.Office.ItemManagers.ItemManagerBase.folder_ItemAdded(ItemBase item, String folder)
--- END TRACE ---