Even though we want to prepare the best software possible, eWay-CRM could have some imperfections. We understand how inconvenient it can be, so we are focusing on elimination of these issues. If an error occurs during your work with the eWay-CRM system, you can send a log by email right to our customer support service. We will resolve your issue as soon as possible.

If the error occurs it is possible that a window like the one below will pop up.

If such a window appears, please click the Send error by email button. The email window will be opened (see below).
Sometimes, it may happen that the error window won't appear, however, the error is indicated by the red color of the eWay Agent icon in your System tray - for more information about the eWay Agent and its icons, go to Microsoft Outlook 2003/2007: eWay-CRM user interface or Microsoft Outlook 2010 / 2013: eWay-CRM user interface. If the eWay Agent icon ever turns red, the reason can be a malfunction of synchronization. In such case, please, right-click the eWay Agent icon, select Diagnostics, and then Send log by email as pictured below.

If you cannot see the eWay-CRM Desktop icon, click the arrow next to the icons to see the hidden ones. Right-click the eWay-CRM Desktop icon there.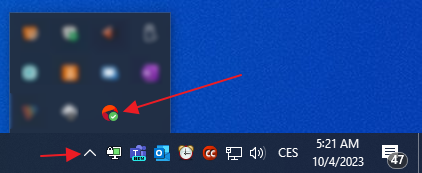 If eWay-CRM is not loaded at all, please go to How to Find the Application Error Log.

Clicking the Send error/log by email button will open a new message window that will look like this: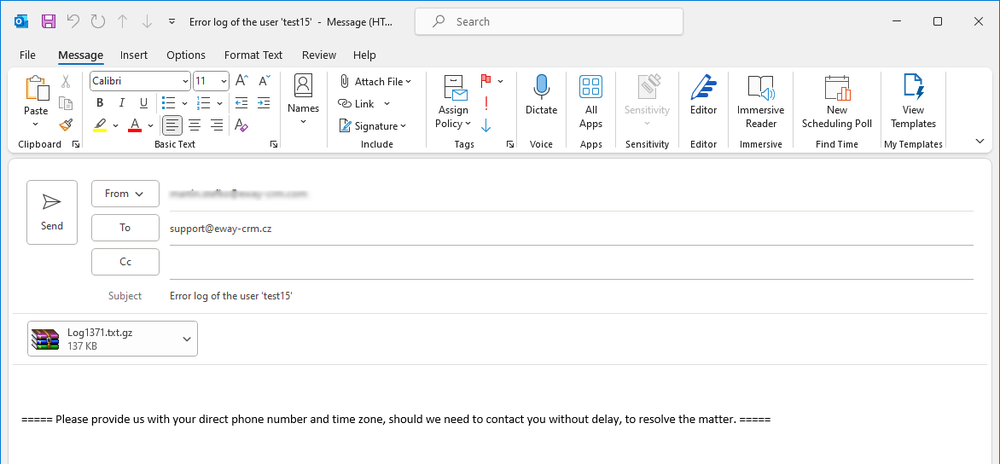 The message will be prefilled with basic information:
The addressee is the eWay-CRM Technical Support (email [email protected]).
The subject is marking that this is a log linked with a specific user.
As an attachment, there will be a log file that we need to identify the cause of the issue.
In order to solve the problem as soon as possible, please, try to provide maximum information you know about the situation - how it happened or what operations the user performed prior to the error. If there is all the data you can provide, just send the email as you usually do - click the Send button.
Our technicians will be notified immediately that you have some complications. Usually, they try to contact you within the next 48 hours to solve the issue with your cooperation.