How to allow compression of data transfer on eWay-CRM Web Service
Description
Compression of data transfer makes synchronization faster because transferred data are packed into the XML structure that enlarges the content of data. Compression setting makes your transferred data smaller.
Version
All versions of eWay-CRM
Difficulty
Medium
Resolution
The setting differs due to the version of IIS.
IIS 7.5 (Windows Server 2008 R2)
In the Internet Information Service Manager, check whether the Dynamic content compression is active.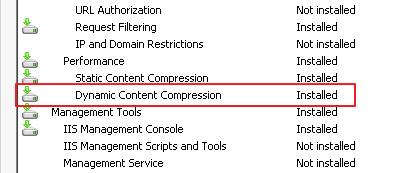 If there is the Not installed status, you need to install the service at first. Do it by clicking the Add Role Services button.
After the installation, you can check that the Dynamic content compression is available on eWay-CRM.