What to do if the installation or actualization of eWay-CRM are unsuccessful?
Description
In some cases, it can happen that installation or upgrade of eWay-CRM to newer version are not processing smoothly and the user will receive any error report during installation or the installation won't be completed correctly.
We often deals with the fact that the update of some SQL Server components we used for data preservation cannot be processed. These could be errors called 1603 (solution is here), 1706 (solution is here) or 3010 (solution is here).
SQL Server can also return that Microsoft SQL Server 2005 cannot be installed because it is 32-bit. In this case, you are installing an older version of eWay-CRM and we recommend to go to our web www.eway-crm.com and download up-to-date version that supports installation on 64-bit operating system. If you are installing an older version of eWay-CRM intentionally, please use this manual that walks you through manual installation of 64-bit SQL Server and then eWay-CRM too.
Error 2738 is an issue that can appear during eWay-CRM uninstallation. There is a solution for this error.
Version
All versions of eWay-CRM
Difficulty
Medium
Resolution
If none of situations above are your case, there are some other solutions that can help in the most of errors.
If the Error 1316 will appear, just close it by OK and let the installation finish. eWay-CRM should start without issues after launching Outlook and there is no need of other steps.
You solve the Error 1935 if you close unsuccessful installation and then right-click the eWay-CRM installation file and select Run as administrator. Run as administrator could be solution for other errors.

You can try to turn off your antivirus software that can prevent the data entry during installation.

If the installation is not successful, be sure that

other users of your computer also turned off Outlook

. Close Outlook (and other software from MS Office) if it is not done on all Windows profiles.

If there was previously installed SQL Server on your PC or some product using SQL Server, some files could remain on your hard drive and they are preventing the installation of new files. This is Error 28111 and you can solve it by the

steps described in this article

.

If the eWay-CRM is upgrading on a newer version, try expert installation and follow these steps (cannot be used for the first installation of eWay-CRM on your PC):
1) Uninstall the previous version of eWay-CRM using Uninstall or change a program in Windows.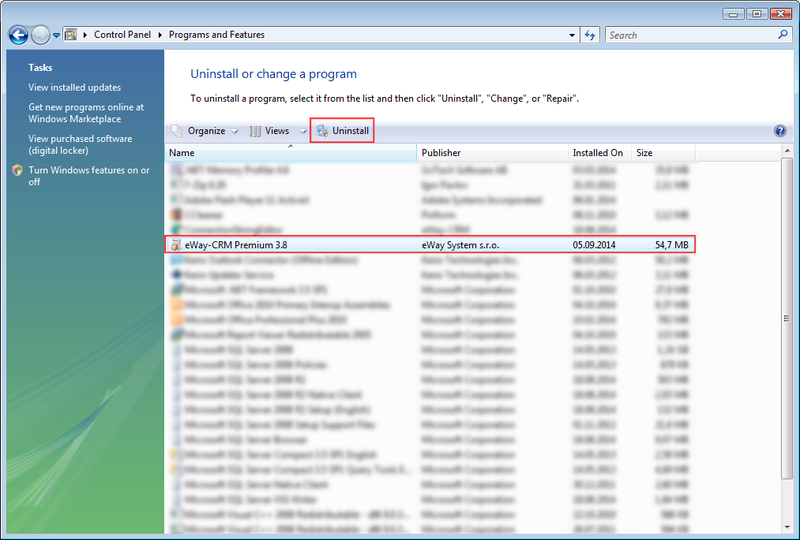 2) Begin an installation of eWay-CRM and select Expert installation.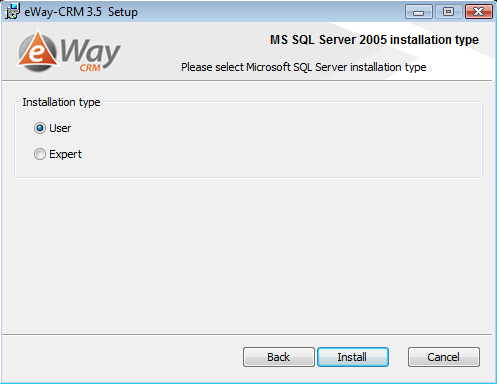 3) Select MSSQL$EWAY as the SQL Server instance in the next dialog.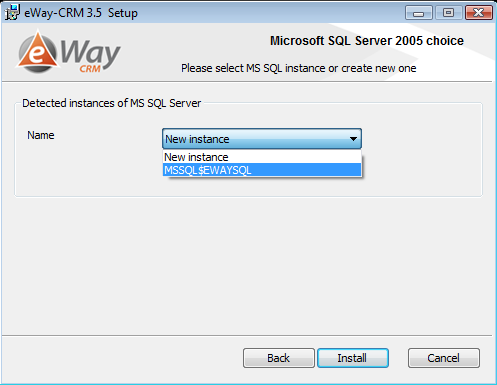 4) Fill in the password for the system administrator - eWay-CRM123 (or eWay123 for older versions).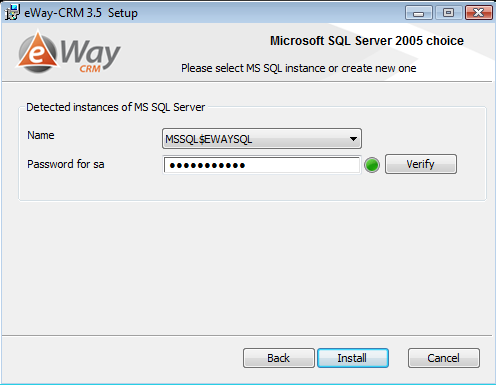 5) The installation should proceed ordinarily.