Error 1603 during eWay-CRM installation
Description
The installation of Microsoft SQL server parts during eWay-CRM installation can show the window with this text: "Sorry, but installation failed. Microsoft SQL server installation returned this error: 1603".

Indications of this error are:
It cannot be installed the MSXML 6.0 Parser component during the SQL server installation.
Any instance of the SQL server is installed (if you choose expert installation, there will be no selection of existing SQL server instances).
The MSXML 6.0 Parser component cannot be uninstalled from the Uninstall or change a program in Windows.
Version
All versions of eWay-CRM
Difficulty
Middle
Resolution
You have to install application called Windows Installer CleanUp.
In the Windows Installer Clean Up, select the MSXML 6.0 Parser component and click the Remove button.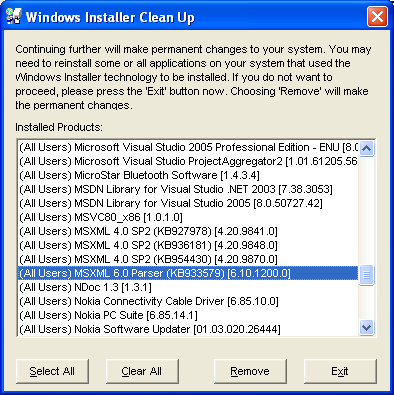 The repeated installation of eWay-CRM should proceed correctly.