Availability: New Administration Center is available since eWay-CRM 6.0.0.
In this section, you can find list of all invoices (paid and unpaid) that was issued for your eWay-CRM licenses.
The Billing History section is under Billing in the Administration Center.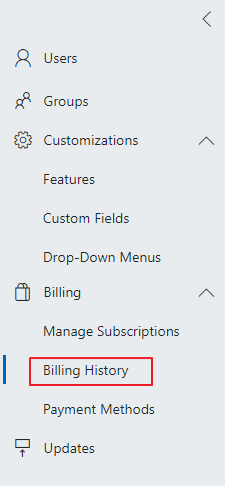 After successful buy, new invoice will be in the list for the current period. For every new period, new invoice is automatically created (unless licenses are unsubscribed).
Invoices are displayed in the table (black are invoices paid or before expiration+ red are invoices after expiration) where you can find basic information about each invoice. You can also click View Invoice:

When you click View Invoice, you can open invoice in own web page or print it.