Important: This setting is available only in the case that the Time Sheets & Planning feature is turned on in the Administration Application.
Resources Planning Type gives you the opportunity to set what model will be used for creating resource plan. You can create it manually or using calendar. For more information, go to Resource Plan.
Double-clicking Resources Planning Type in the list will bring up the Global Setting card.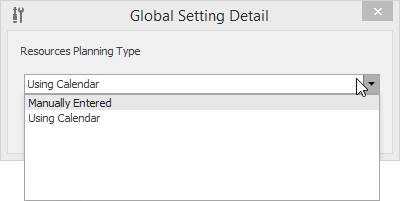 Field on the Global Setting Detail
The field is intended to enter the adjustment value. You have these options:
Manually Entered - you manually set number of working hours for a user on selected project.
Using Calendar - values will be created from calendar events. Values cannot be inserted manually into Resource Plan, only by adding calendar events to projects.
Clicking OK in the lower part of the Global Setting card will save changes and close the card. If you wish to close the Global Setting card without saving any changes, click Cancel.