Availability: Unified login is available since eWay-CRM 6.1.0.
Ways of logging in:
Login Using eWay-CRM Account
eWay-CRM gives you different products but all of them have similar login. Due to the OAuth2 technology, this login is as safe as possible.
After creating an account, an email with credentials is sent to the email address of your user. These credentials are:
Web service address
Username
Password
These credentials are necessary to correct login to eWay-CRM Outlook, eWay-CRM Web, and eWay-CRM Mobile.
Login
Save your credentials, but you will need mainly your email address and your password. When you are logging in, you just insert your email address that is related to your eWay-CRM account.
In case of on-premise setup you have to fill in your web service address.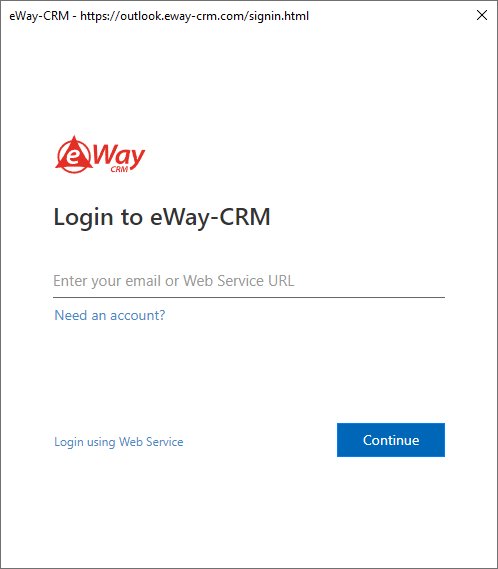 If you confirm your email address, you will receive an email with a 6-digit code. Insert it to the next window: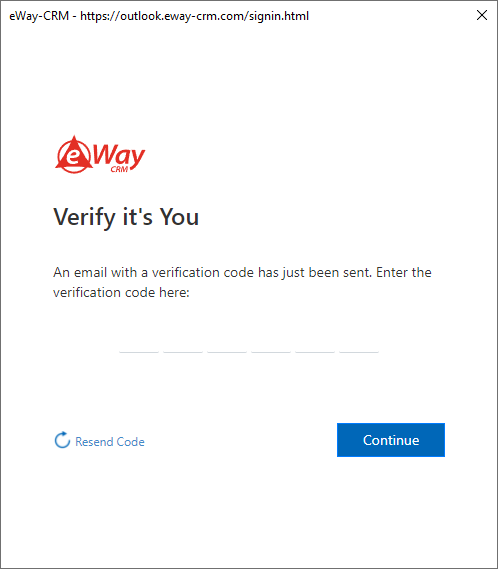 If everything is alright, you will see the window where you insert your password.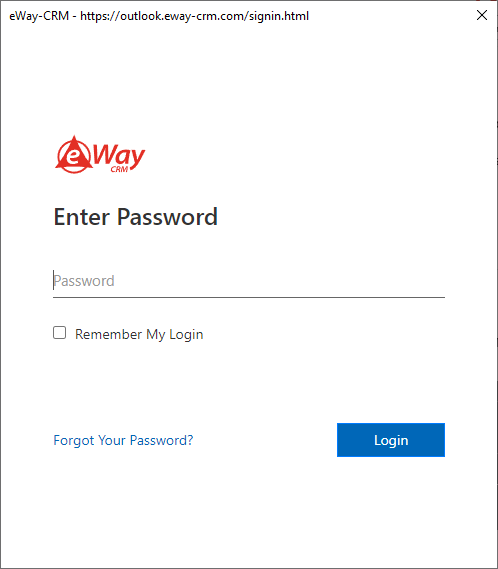 Click Login and if your password is correct, you are successfully logged. If you forgot your password, please see the chapter below.
Forgot Password
It can happen that you do not remember your password in the application or you forgot it and cannot find it. If you still want to log in, follow these steps:
In the login dialog, click Forgot Your Password?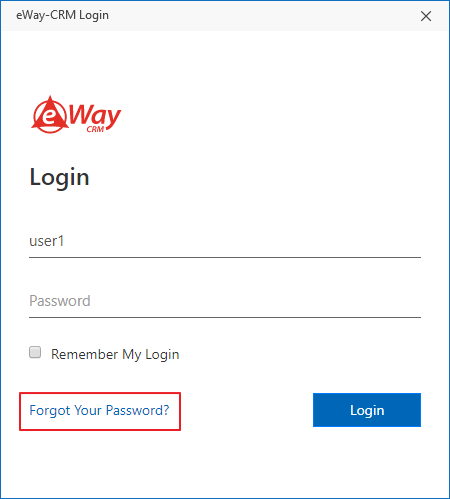 In the new dialog, name the user whose password you want to change. Type in his or her name correctly because an email with a verification code will be sent to his or her email address. Then, click Reset Password.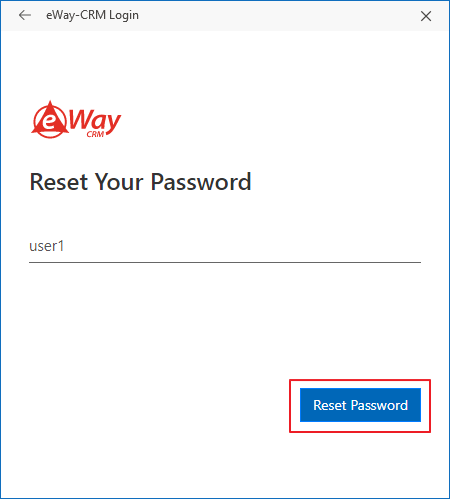 The verification code was sent to your email address and you need to type it here.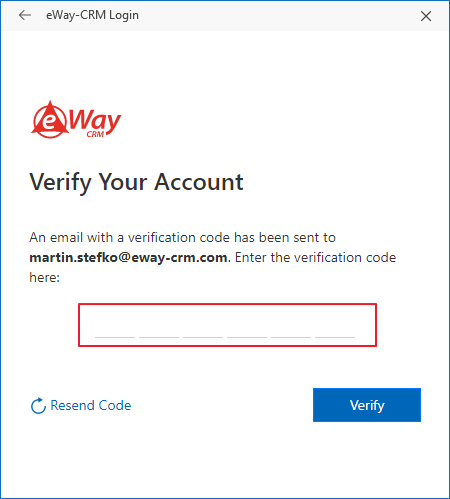 Go to your email client and write 6 figures of verification code (it will be different than in the picture) to the dialog. Then, click Verify.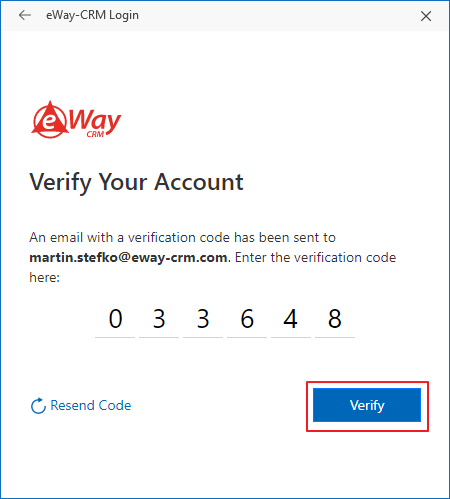 If the code was inserted correctly, you just select a new password and type it again (be sure to set strong password, weak passwords cannot be allowed). Now, just click Change Password.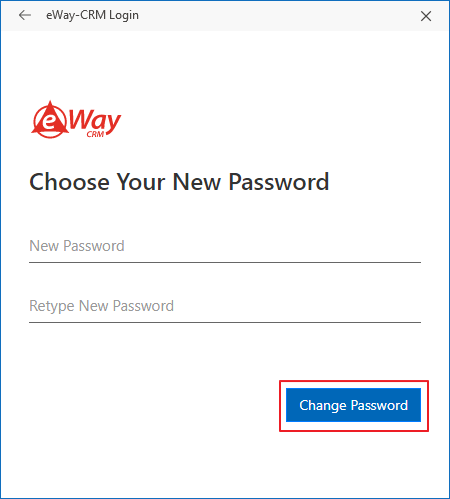 You can log into your account using your new password.
Login Using Microsoft Account
The specific way to log into your eWay-CRM when you do not need to know your eWay-CRM credentials, you just sign in to eWay-CRM same as when you sign in to your Microsoft Office 365 account. In this case, your integration of eWay-CRM to Microsoft Outlook will be on another level. First, you will enter your e-mail address: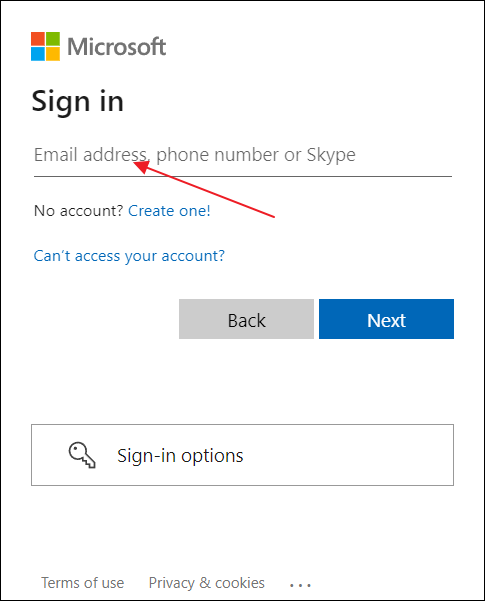 And then a password to your Microsoft 365 account. This password is not managed in eWay-CRM but in a Microsoft account (password is not provided to eWay-CRM).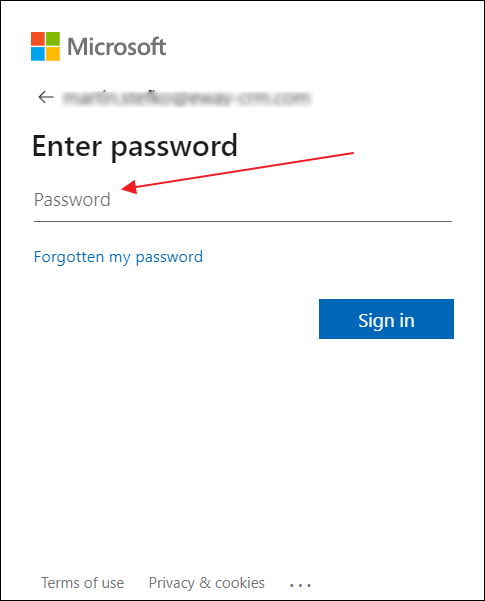 If you want to sign in this way, please contact our customer support.