Microsoft Outlook 2010 and Higher: eWay-CRM Desktop User Interface
eWay-CRM Desktop is an add-in for Microsoft Outlook. It extends the Outlook main ribbon of new modules so that you can quickly access the company database. The eWay-CRM Desktop appearance can vary depending on what version of Microsoft Outlook you use. We always accommodate the look of your Outlook in order to provide one single piece of software you work with. Let us take a look at how eWay-CRM Desktop looks in Microsoft Office 2010 and higher.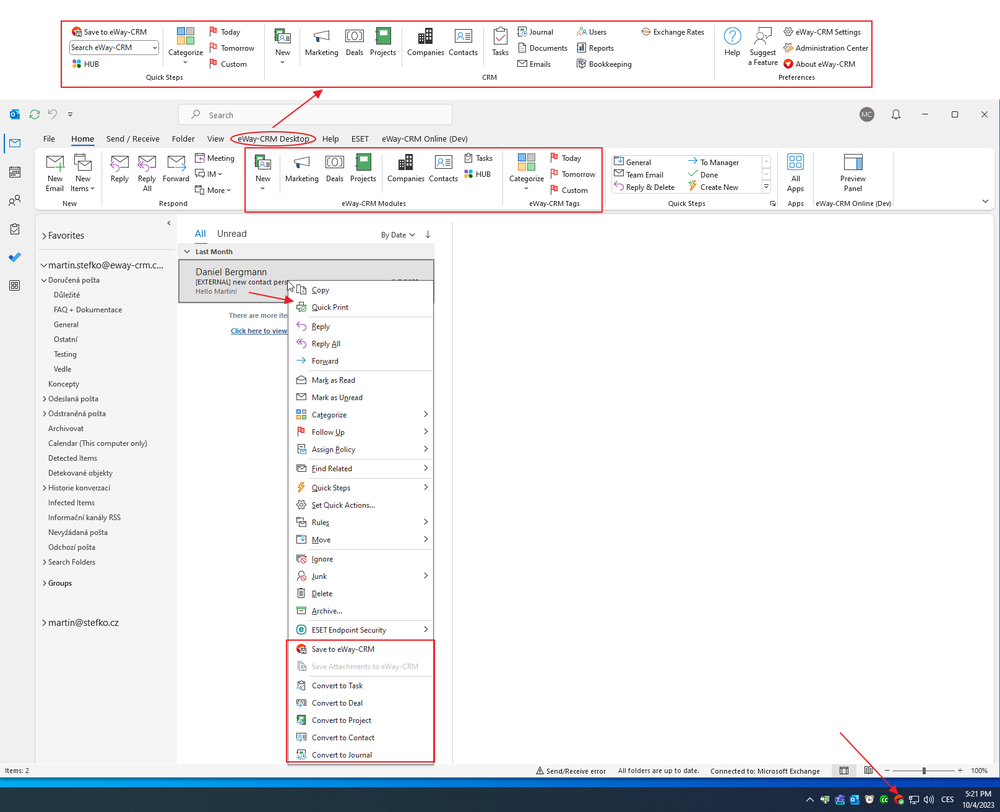 eWay Agent
eWay Agent is a process that runs in the background and provides automatic synchronization of data between the server and the eWay-CRM Desktop Outlook Addin. It is represented as a small icon in the Windows system tray area. The icon changes color according to its status.

If you cannot see the eWay-CRM Desktop icon, click the arrow next to the icons to see the hidden ones. Right-click the eWay-CRM Desktop icon there.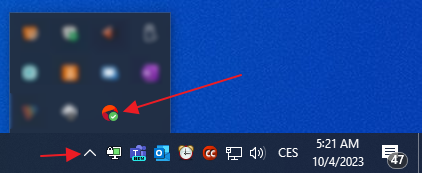 eWay Agent has these basic statuses:
| | |
| --- | --- |
| | All items are synchronized. The displayed data are accurate. |
| | The synchronization of items with the server is running or eWay-CRM Desktop is just now connecting to the server. |
| | The connection to the server is not available at this time – as soon as the connection is restored, synchronization will run automatically. |
| | eWay-CRM Desktop is offline at the moment – you can cancel this setting by right-clicking the eWay Agent icon and canceling the Work offline option. This mode allows you to work with your data even without a connection to the internet or to the server. |
| | eWay-CRM Desktop is logging in to its account. |
| | You have a new eWay-CRM Desktop update available and you can install it. |
| | eWay-CRM Desktop invoice is 3 days past due. The application is in 10-day period when you can still use all its functions. |
| | eWay-CRM Desktop is launching. |
Synchronization Did Not Pass for More Than 3 Days
eWay Agent gives you information not only of the synchronization process, and the status of eWay-CRM Desktop but also of the fact that synchronization did not pass in a longer period of time. If the synchronization did not pass for more than 3 days, eWay Agent will show the bubble that informs you about this situation. On the basis of this notice, you can try to process the synchronization, find out the malfunction, or arrange help.
Ribbons in eWay-CRM Desktop
eWay-CRM Desktop is fully integrated with Outlook ribbons in which you can find the most frequently used functions of the system. This gives you quick access to the most important modules. A full list of functions can be found in the eWay-CRM Desktop tab.
eWay-CRM Desktop Tab
This tab comprises an extended list of system modules and access to settings, Administration Settings, and eWay-CRM Desktop help.
Minimize the Ribbon
In the bottom right corner of the ribbon, there is a button for its simplified version.

When you click the icon and you are using Microsoft Office 2019 or Microsoft Office 365, the ribbon will change to this form:

Availability: Simplified ribbon has been available since eWay-CRM 5.3.1 when using Microsoft Office 2019.
Lists
eWay-CRM Desktop data are listed in the Outlook main area. If you click on any eWay-CRM Desktop module, a grid with the data appears. If you want to return, just click any Outlook module (Emails, Tasks, Calendar).
Items in the eWay-CRM Desktop lists can be sorted, filtered, grouped, or column-view-adjusted according to your needs. You can save your defined views for later use. You can display only the data you need. For more information, visit the chapter Main List in our documentation.
eWay-CRM Desktop Functions Embedded Into MS Outlook
eWay-CRM Desktop is not simply toolbars with modules. We want to provide you the maximum comfort when using our modules and functions, so we embedded them directly into the Outlook context menu and they can also be found in Tools in order to work with an item (in Emails, Tasks, Contacts).