Microsoft Outlook 2003/2007: eWay-CRM Desktop User Interface
eWay-CRM Desktop is intended as a program supplement to Microsoft Outlook. Consequently, the control elements are to be found in the Microsoft Outlook user interface. The appearance and control of our system are slightly varied in the different versions of Microsoft Outlook, but that's because of Outlook's development and our willingness to maximize the use of the possibilities that Outlook provides. Let's take a look at how to control eWay-CRM Desktop if you have installed Microsoft Office 2003 or 2007.
Overview
If you click the individual control elements of eWay-CRM Desktop, as shown in the picture below, you'll be forwarded to a text that describes each element.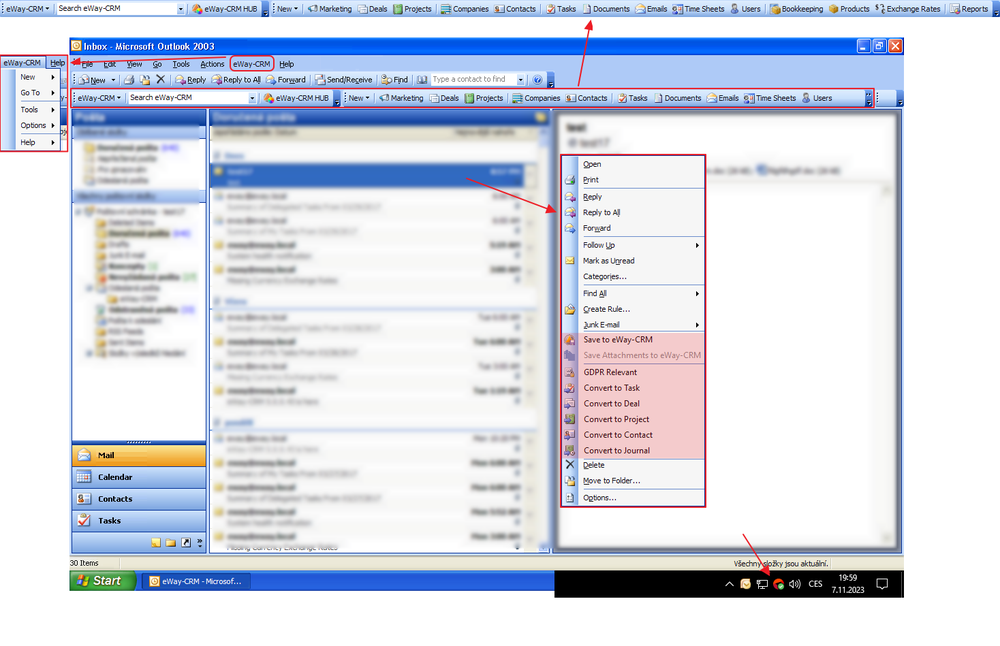 eWay Agent
eWay Agent is a process that runs in the background and provides automatic synchronization of data between the server and the eWay-CRM Desktop application. It will appear as a small icon on the main Windows panel near the clocks. The icon will change color according to its status. eWay Agent has these basic statuses:
| | |
| --- | --- |
| | All items are synchronized. The displayed data are accurate. |
| | The synchronization of items with the server is running or eWay-CRM is just now connecting to the server. |
| | The connection to the server is not available at this time – as soon as the connection is restored, synchronization will run automatically. |
| | eWay-CRM is offline at the moment – you can cancel this setting by right-clicking the eWay Agent icon and canceling the Work offline option. This mode allows you to work with your data even without a connection to the internet or to the server. |
| | eWay-CRM Desktop is logging in to its account. |
| | You have a new eWay-CRM Desktop update available and you can install it. |
| | eWay-CRM invoice is 3 days past due. The application is in 10-day period when you can still use all its functions. |
| | eWay-CRM Desktop is launching. |
Note: In the case your license expires, you will be informed not only by the exclamation mark over the eWay Agent icon but also by the bubble above the eWay Agent.
Synchronization Did Not Pass for More Than 3 Days
eWay Agent gives you information not only about the synchronization process, and the status of eWay-CRM Desktop but also of the fact that synchronization did not pass in a longer period of time. If the synchronization did not pass for more than 3 days, eWay Agent will show the bubble that informs you about this situation. On the basis of this notice, you can try to process the synchronization, find out the malfunction, or arrange help.
eWay-CRM Desktop Menu
The eWay-CRM Desktop menu is entirely integrated with the Outlook menu and you can find it among File, Tools, Help, and so on. The menu provides access to the eWay-CRM Desktop settings and administration settings (only in multi-version), where you can find information about the product version or a link to our help center.
The menu also provides options for working with items thanks to the buttons Go To and New. However, you can use them (usually more easily) within the eWay-CRM Desktop working buttons which are situated among the Outlook toolbars. Use this menu for access to the Journal and Emails modules.
eWay-CRM Desktop Toolbar
When you look at the Outlook toolbar you will see new buttons which are not found on the standard Outlook toolbar. Thanks to them you can simply switch between the main eWay-CRM modules with one click and work with your data. Clicking on Projects, Deals, Companies and so on will display a list of current items – the so-called module list. For access to Journals and Emails use the eWay-CRM Desktop menu.
There are few methods to create items in eWay-CRM. One of them is the New button on the eWay-CRM toolbar where you select the type of item you want to create. Depending on your choice a dialog window will appear in which you enter information about your new item. There is also the possibility to create new relations between the new item and items from other modules (for example you can relate a Contact person to a Company or you can add a Report to a Project). More information about the possibilities with data work can be found in section Work With Item Window.
Another possibility is Search in eWay, which is situated on the toolbar. This function is full-text string searching across all items stored in eWay-CRM, regardless of type. Finally, there is the eWay Today button. This function shows you a summary overview of your Projects, your last changed items and other information.
Modules' Lists
Data from eWay-CRM are listed in the part of the Outlook window which is usually dedicated to working with emails, calendar and tasks. When you click othe eWay-CRM modules icon, emails will be replaced by a list of data from your chosen module. If you want to return, just click any Outlook module (Emails, Tasks, Calendar).
Items in the eWay-CRM lists can be sorted, filtered, grouped or the column-view-adjusted according to your needs. You can save your defined views for subsequent use. You will get an overview of everything in which you have an interest. For more details visit section Main List, where the creation of items is also described.
eWay-CRM Functions Embedded to MS Outlook
eWay-CRM is not simply toolbars with modules. We want to provide you the maximum comfort when using our modules and functions, so we embedded them directly into the Outlook context menu and they can also be found in Tools in order to work with an item (in Emails, Tasks, Contacts).